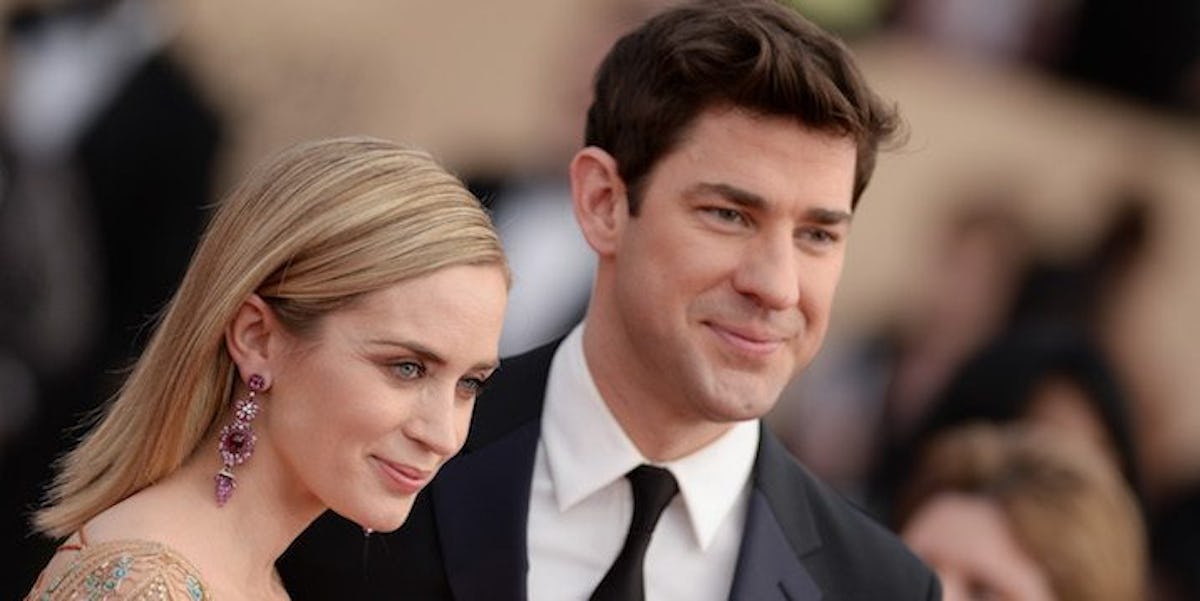 Emily Blunt and John Krasinski Will Finally Star In Their First Movie Together
REX/Shutterstock
They've been together for nine years, and they're both major actors, but for some strange reason Emily Blunt and John Krasinski have never been in a movie together... until now.
The A-listers are finally bringing their lovable romance to the big screen for their first movie together ever!
But don't expect a cutesy rom-com from Blunt and Krasinski's debut movie together — the husband and wife will actually be co-starring in a horror movie.
Yup, Emily and John have both signed on for leading roles in a supernatural thriller called "A Quiet Place," according to Variety.
Although the supercouple have been seeing each other for nearly a decade and are both hugely in-demand movie stars, they've opted to keep their personal and professional lives separate up until now. So what changed their minds? Apparently, the script for "A Quiet Place" was so good that after reading it, both Krasinski and Blunt couldn't turn it down.
In true John Krasinski and Emily Blunt fashion, they're already being super adorable about the project. Shortly after the movie was announced, John posted a screenshot to Instagram and wrote that he's been wanting to work with his wife more more than anyone else for years. Awww!!
And John Krasinski is getting a lot more involved in this project than I've made it sound.
Not only will he be starring in it, but he's also set to rewrite the script and direct the horror flick. Basically, he's devoting everything he's got to this movie.
I'm just imagining John waking up in the middle of the night and nudging Emily, and saying something like, "Honey, you know that scene in the woods? I just thought of a few notes..."
As far as any other details about "A Quiet Place," they're all being kept super hush-hush. All we really know now is that it will be a dramatic thriller with a supernatural element, and it's slated to start shooting this fall.
So unfortunately, it sounds like we're going to have to wait at least a year (probably more) to finally see Emily Blunt and John Krasinski on-screen together.
I'm just going to be rewatching "The Devil Wears Prada" and episodes of "The Office" until then.
Citations: John Krasinski to Write, Direct and Star With Emily Blunt in 'Quiet' Thriller (Variety)