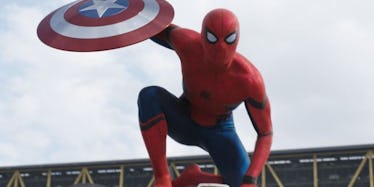 Spider-Man & Mary Jane Couples Costumes To Get Your Spidey Senses Tingling
Marvel
October is almost here, and now is the time to be planning out your Halloween costumes, especially if you and your significant other plan to go as a team. There are many couples costumes pairing that are going to be popular this year, but perhaps the biggest is the return of Spider-Man and Mary Jane Watson to the theaters. If you're looking for the perfect Spider-Man and Mary Jane couples Halloween costumes to do this year, we've got you covered. Let's review the top three ways you can dress up as Marvel's favorite young couple.
Before we dive in, a few notes about about dressing up like Spider-Man and Mary Jane. For Spider-Man, his costume hasn't changed that much in the last 50 years or so. It's the web-slinger costume we all know and love, and variations of it are available everywhere. For going as the classic, as opposed to the "Sony" loo as opposed to the new "Marvel" design, mostly it all looks the same -- we're just quibbling about cut and shape.
But Mary Jane is a different story. She doesn't have a "specific" look that's assigned to her. There are a few famous panels from Marvel from her over the years, there's the "standing in the rain" look from the 1999 Toby MacGuire Spider-Man, and there's the too cool for everyone Zendaya look from Spider-Man: Homecoming. But none of these are costumes. You won't find them in stores. They're street clothes. So your best bet is to buy from Amazon.
Let's take a gander at the pairings.
Original Comics Spider-Man and Mary Jane
Spiderman Costume, $40, Halloween Costume | Black Shell Top, $15, Amazon | Khaki Pants, $20, Amazon
This is the classic Spider-man look from the comics, where the blue bottoms are cut like pants, and he's wearing black work shoes. Halloween Costumes has it for $40, though I think the shoes are your own. (If you've got sneakers, that will help update, but if you're going for the true "1960s" look, then those black work shoes are it.)
Mary Jane is taken from the famous "Jackpot" panel. It's a work outfit, and a sexy one at that, with a black shell top and khaki pants and plain heels. (The ones pictured here are a bit over sexy, I'd go with whatever work pumps you own.) Both are available with Prime shipping too!
2000s Era Spider-Man and Mary Jane
Spiderman Costume, $70, Halloween Costume | Pink Top, $13, Amazon
The Sony era Spider-man lengthened the torso of the original suit design, especially for Andrew Garfield, who is a very long and tall man. This again is available from Halloween Costumes. It's a little pricier ($60) than the classic suit, but for a tall guy, probably the better look to aim for.
The Kristen Dunst Mary Jane Watson look in the rain of the low cut pink top and jeans was so striking that when Garfield came aboard, they dressed Gwen Stacy in almost the same outfit. So, you can go for it and be either couple, though most will assume you're Mary Jane, especially if you're soaked to the skin. Pink top runs $13 on Amazon, and we assume you own jeans.
2017 Era Spider-Man and Mary Jane
Peter Parker Hoodie, $46, U Best Cosplay | Black Jacket, $29, Amazon | Crochet Bodysuit, $15, Amazon
The first real change the to Spider-Man look is the new Marvel version before he gets the high tech suit in Homecoming. For the cool Peter Parker hoodie look, we suggest hitting UBestCosplay, since most of the mainstream sites only have them for little kids so far. It costs $50.
As for trying to look like Zendaya, aren't we all? We're going for the military jacket over lace crochet bodysuit that she wears to class. The crochet bodysuit is cheap enough at $15. Her jacket is more expensive at $40, but it's also a great coat just in general. If it were us, we'd wear jeans, but if you're Zendaya, just the catsuit will do.