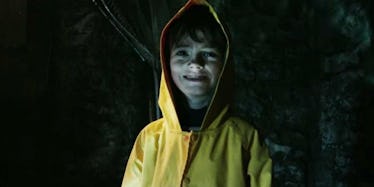 These Georgie Costumes Are Perfect For The 'It' Fan This Halloween
Warner Brothers
Halloween is a time for scares and horror. Right now, the scariest thing in the movie theaters isn't mother!, it's, well, It. But while some will get their thrills by dressing up as Pennywise the Clown, or the Loser's Club, for those who haven't seen the movie, there's only one character we recognize: the child with the balloon who is the first victim of this round of murders. His name, for those who haven't seen it, is Georgie Denbrough. Here are four ways you can do Georgie costumes from It this coming Halloween.
Before we get into the different ways you can dress like Georgie this Halloween, let's get something out of the way -- this is a child part. Almost all of the mainstream costume sites, and cosplays we've seen in the last three weeks (and yes, it's only been three weeks since the movie came out), are aimed at the idea that you'll be dressing up your kid as if you're sending him to go find himself a nice sewer to play in and never come back.
Not that adults cannot dress themselves up like Adult Victim Georgie. But just so you're aware, most assume this is something you'll inflict on your kids, not yourself. On with the outfits!
Old School Georgie
Girls Rain Slicker, $40, Land's End
So, there are two versions of the yellow rain slicker look. Most places have flipped to the 2017 version, but for those who are still going for their Tim Curry Pennywise outfit, and want their kid to be the proper looking 1991 Georgie, it's actually a matching yellow slicker and hat, the kind Land's End has been carrying since time began. And they still carry them, for little girls and little boys ($40), and even for Adults ($60), if you want to go as the Adult 1991 Victim look.
We assume you can get a red balloon at the supermarket, and make a newspaper boat at home.
Childlike Georgie
For dressing your own child like Pennywise's first victim in 2017, there are several places that have versions of the signature yellow slicker. We're partial to the one carried by Cosdady, since they've got you covered with both the child's yellow rain slicker and the boots, whereas most other places just do the slicker. The rain slicker will run you $40 and the boots are $30.
As above, we assume you can get a red balloon at the supermarket, and make a newspaper boat at home. We don't have suggestions for the therapist you'll be booking down the line when your child remembers this as traumatic event in their life.
Adult Georgie
Mainstream sites haven't caught up yet with It costumes, not even for Pennywise. For Georgie, if you're an adult size, your best bet is Amazon. The rain slicker is $10 and is unisex. The rain boots are $25, but they're good boots that will become your regular rain boots -- and you can imagine yourself stomping Pennywise's face on your way to work.
Once again, we assume you can get a red balloon and newspaper for a boat from the supermarket. If the supermarket doesn't have them big enough to scale with the adult sized costumes, Party City certainly will.
Girly Georgie
But what if you want to do the yellow rain slicker victim look, but you're thinking, "These are just not girly enough. I need my characters that get fridged early and often to look as feminine as possible!" Well, then you're in luck, because the above video has the perfect DIY to make a Girly Georgie Halloween outfit, complete with creepy yellow "slicker skirt" and halter top.
As always, balloon and newspapers available at pretty much any store that sells party supplies.