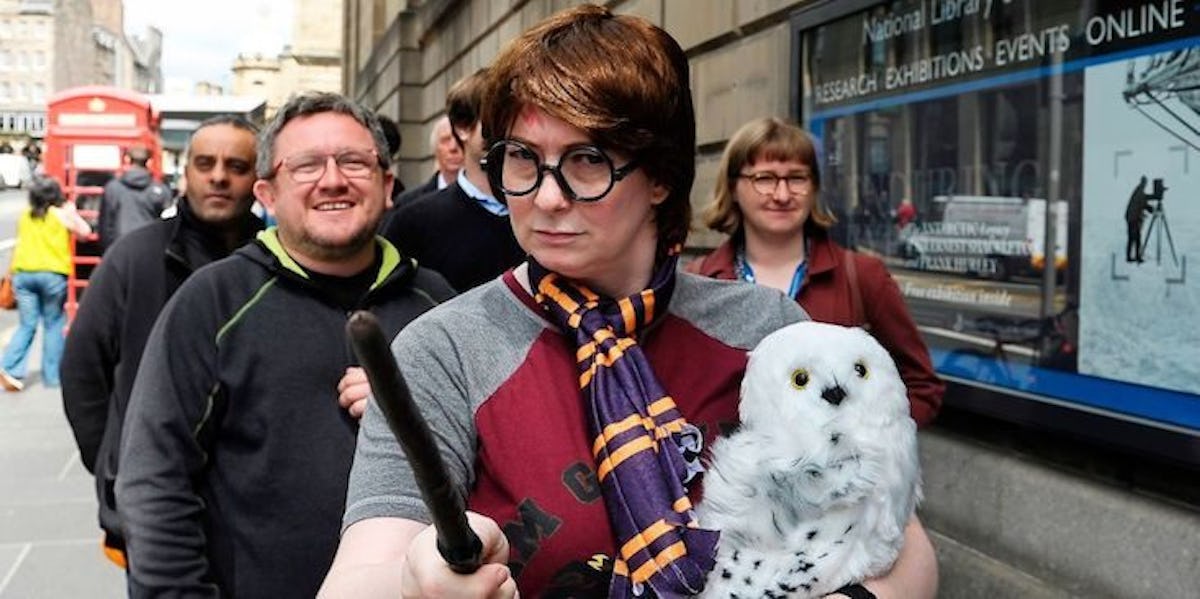 6 DIY 'Harry Potter' Costumes To Make Your Halloween Super Magical
NEIL HANNA/AFP/Getty Images
As Halloween grows nearer and nearer, nerds across the country grow more and more panicked. After all, there's less than two months for you to find the perfect relevant, attractive, humorous costume that proves you love pop culture more than anyone else. I know this feel, nerds, because I am one of you. Luckily, in tough times like these, we have an old friend we can always rely on: Harry Potter. Harry Potter is always popular more importantly, a Harry Potter costume is incredibly easy to assemble on your own. So if you're still without a costume plan, check out these easy DIY Harry Potter costumes that will make any Muggle jealous.
1. Generic Hogwarts Student
Listen, it's an oldie, but a goodie. All you need is a red, green, blue or yellow tie, a white collared shirt, black bottoms, and you're instantly a proud Gryffindor, Slytherin, Ravenclaw, or Hufflepuff. Find a particularly wand-like stick on the ground for a little extra oomph, and you're good to go.
I can't tell you how many times the blue striped tie I purchased at Walmart in 2008 and the white collared shirt I got from a catering job in college have saved me in a last minute costume situation. I admit, my regulation wand and Time-Turner from The Wizarding World of Harry Potter does make my version of this one a little better, but hey, we can't all be me.
2. Newt Scamander from Fantastic Beasts and Where to Find Them.
Switch it up with slightly more topical wizardly costume by throwing together Newt Scamander's iconic outfit from Fantastic Beasts and Where To Find Them. It shouldn't be too hard to find these things at your local Goodwill store: A white collar shirt, a brown vest, a black bowtie, and a wand of course, would suffice for the coatless Newt look. But of course, the coat is pretty iconic, so a turquoise peacoat, a yellow striped scarf, and a briefcase would truly complete this Potter look.
3. Queenie from Fantastic Beasts and Where to Find Them.
If you don't feel like investing in a nice peacoat, or if you're looking for a more feminine Harry Potter look, you can opt for another well-dressed character from Fantastic Beasts and Where to Find Them: Queenie Goldstein. The key for the Queenie look is really the hair, for which you can find helpful Queenie hair tutorial videos on YouTube. Once you have the hair down, any combination of pink dress, pink scarf, and high heels will do. And if you happen to have a beret lying around too, that'd be really clutch.
4. The Golden Snitch.
Through my years at Harry Potter conventions, the Golden Snitch is always a popular non-character costume. It's easy to put together: You just need some gold clothes and a pair of golden wings! And because this is a sort of abstract costume, you can put your own cute/sexy/humorous flair on it.
5. Nymphadora Tonks.
Nymphadora Tonks is always a fun and easy Harry Potter costume to throw together, because Nymphadora Tonks's appearance is constantly changing! Technically, we are all doing a Tonks cosplay at all times. But if you want to make yours a little more distinct, I suggest a brightly colored wig of hair, some punk rocker clothes, and of course, a wand. Bonus points if you can find a pig nose to top it all off.
6. Dobby the House Elf.
Poor Dobby is pretty easy to create costume for, because he doesn't have many clothes! Some cardboard ears, a bed sheet, and of course, a single dirty sock would definitely do the trick here. You might want to be prepared for Harry Potter fans bursting into tears if you choose this costume, though.
Have a magical Halloween, everyone!
Check out the entire Gen Why series and other videos on Facebook and the Bustle app across Apple TV, Roku, and Amazon Fire TV.