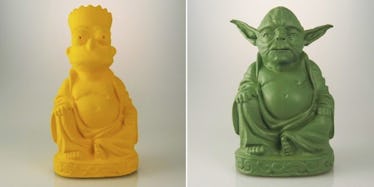 Your Favorite Characters As Buddha Statues Will Add Zen To Your Life (Photos)
Are you feeling stressed out? Are you anxious or off-kilter?
Are you looking for some Zen in your life?
Well, I've got just the thing for you: Buddha statues with the heads of superheroes and other cultural icons!
The statues were created by New Jersey-based artist Chris Milnes, who used one of those new-fangled 3D printers to make these masterpieces.
The statues include busts of Darth Vader, Yoda, Batman, Iron Man and Groot.
These things would make a great addition to any apartment or office desk and will help you feel centered when things get stressful.
They're pretty cheap, too. You can find them on Etsy, starting at just $7.99. Check them out below.
Groot
Frankenstein's Monster
Bart Simpson
Batman
A Stormtrooper
Yoda
Iron Man
Darth Vader
Terminator T-800
The Hulk
Optimus Prime
Citations: These Superhero Buddhas Let You Worship Your Beloved Superheroes And Supervillains (Bored Panda)