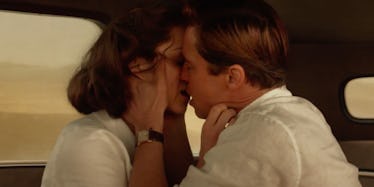 Brad Pitt And Marion Cotillard Have Major Chemistry In New 'Allied' Trailer
YouTube
If anything makes Brad Pitt and Marion Cotillard hot and bothered with each other, it's killing Nazis.
It's a weird (and extremely complicated) fetish, but hey, to each their own.
In case you've been living underneath a rock, let me tell you that Brangelina have split.
Also, what are you doing underneath a rock? Have you been trapped "127 Hours"-style, or are you trying to live your life more like Patrick from "SpongeBob?"
Anyway, one of the rumors going around at the time of the divorce announcement was Brad and Marion were having some sexy time on the set of "Allied," which led to the termination of Brangelina.
Of course, Marion shot down that rumor with a post on Instagram, saying,
Firstly, many years ago, I met the man of my life, father of our son and of the baby we are expecting. He is my love, my best friend, the only one that I need.
Can you just imagine her saying that in a French accent? "ZE ONLY ONE ZAT I NEED."
*Swoons*
Anyway, a new trailer just came out for the movie "Allied," and the two costars have some serious chemistry.
I just want someone to carry me the way Brad Pitt carries Marion.
Always the guy in the back in a beret holding a newspaper, never the Brad. This is my fate.
Holy shit, Brad and Marion's chemistry is so insane even the birth of their fictional baby is causing explosions by emerging from her womb.
Either that's Brad getting handsy, or one extremely lucky shoulder body double.
TFW you find out your wife is divorcing you...
"What are you looking at, mon amour?"
"This shitty painting. Why do we own this shitty painting?"
ARE YOU SERIOUSLY TELLING ME NOTHING HAPPENED ON SET?
SERIOUSLY?
Citations: Brad Pitt and Marion Cotillard are magnetic on screen as married assassins in new Allied trailer... after on-set romance rumors shot down (DailyMail.com)