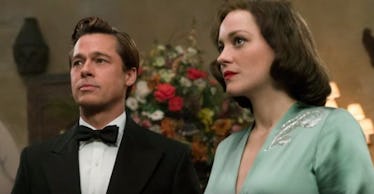 People Are Saying Brad Pitt Cheated On Angelina Jolie With Marion Cotillard
YouTube
As you can imagine, there are several rumors floating around about the divorce between Angelina Jolie and Brad Pitt.
Although TMZ originally reported there was no "third person" involved in the couple's decision, Page Six reports otherwise.
According to the source, Angelina is filing for separation after finding out her husband had an affair with his "Allied" co-star Marion Cotillard.
The two star in the feature film, which hits theaters this November.
An insider told Page Six,
[Angelina] hired a private eye because she felt that he was fooling around with her on the set, and it turns out, he was. And that was the final straw.
Nothing about Angelina Jolie and Brad Pitt's split has been confirmed, minus a statement by the couple's attorney, Robert Offer, which reads:
Angelina has filed for dissolution of the marriage. This decision was made for the health of the family. She will not be commenting, and asks that the family be given its privacy at this time.
Regardless of what's true, it looks like Twitter is forming its own conclusions.
Marion Cotillard has been with Guillaume Canet since 2007, though, so that makes the rumors even more complicating.
Either way, it's upsetting to know Brad and Angelina are over and love is dead.
RIP, Brangelina. You're in our hearts forever.
Citations: Brad Pitt and Angelina Jolie Split (Harper's Bazaar)