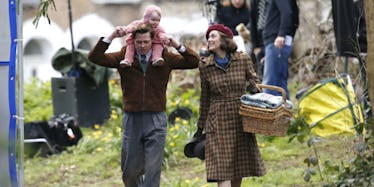 Marion Cotillard Shut Down All The Brad Pitt Cheating Rumors
REX/Shutterstock
Most actresses don't enter their career hoping that one day they too will get to fight off rumors that they split up a marriage between Hollywood's golden couple.
Unfortunately, that is exactly what Marion Cotillard got thrown into when Angelina Jolie filed for divorce from Brad Pitt on the same day her and Pitt's "Allied" trailer dropped.
Cotillard took to Instagram to give her reaction. She wrote,
This is going to be my first and only reaction to the whirlwind news that broke 24 hours ago and that I was swept up into. I am not used to commenting on things like this nor taking them seriously but as this situation is spiraling and affecting people I love, I have to speak up.
Cotillard not only discussed her love and affection for her husband of nine years, Guillaume Canet, but she also admitted that she is pregnant with their second child. She continues,
Firstly, many years ago, I met the man of my life, father of our son and of the baby we are expecting. He is my love, my best friend, the only one that I need. Secondly to those who have indicated that I am devastated, I am very well thank you. This crafted conversation isn't distressing. And to all the media and the haters who are quick to pass judgment, I sincerely wish you a swift recovery.
Uh... (*points finger to myself*)... me? She's talking about me isn't she...
She finishes her post,
Finally, I do very much wish that Angelina and Brad, both whom I deeply respect, will find peace in this very tumultuous moment. With all my love Marion
The couple already have a 5-year-old son named Marcel. It looks like the media just put the cart before the horse here. I'm looking for reasons, Marion! I didn't mean to make you feel awkward.
You forgive me?
I understand -- I'll give you some time.
Citations: Perez Hilton (Perez Hilton)