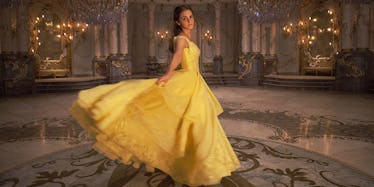 There's 'Beauty And The Beast' Nail Polish, So You Can Be The Belle Of The Ball
Walt Disney Studios Motion Pictures
It's safe to say the hype surrounding Disney's live-action version of "Beauty and the Beast" has surpassed all the other live-action remakes, even the 2014 top-grossing film "Maleficent."
With Emma Watson as Belle, alongside the likes of Ian McKellen (Cogsworth) and Luke Evans (Gaston), the movie is shaping up to be a hit with all fandoms.
Who wouldn't want to see the brightest witch at Hogwarts sing to the clock version of Gandalf/Magneto?
Until recently, most of the details about production or really anything about the film had been kept under wraps. But after a new trailer was released during the Golden Globes, fans are buzzing -- and are hungry for more.
Luckily for American consumerism, the nail polish brands Morgan Taylor and Gelish have announced a partnership that should hold everyone over for one more month.
The best thing you never knew you needed, a "Beauty and the Beast"-themed nail polish collection, is on the way, and just in time for spring.
For the most part, the colors are bright and pastel, paired with a daring red color called "The Last Petal."
Belle's signature yellow, aptly named "Days In The Sun," is the most direct homage to the movie out of of the seven shades.
The other shades continue to play with themes from the movie, with names like "Gaston And On And On" and "Potts Of Tea."
The collection is destined to be a hit with any die-hard fan. And for those with a little less zeal, the colors are simple enough to look like normal springtime pastels.
The "Beauty and the Beast" nail polish will officially go on sale at the beginning of February, but once it sells out, the colors will be gone forever.
So make sure to go and grab like 60 of them and sell them on eBay to people who care more about the movie than you do.
The movie is set to be released in March 2017.
Citations: A Beauty And The Beast Nail Polish Exists — & We Need It Now (Refinery29)