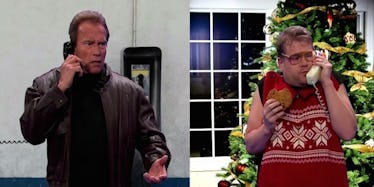 Arnold Schwarzenegger Performs His Entire Movie Career In 6 Minutes (Video)
Arnold Schwarzenegger went on "The Late Late Show with James Corden" last night to promote his new film, "Maggie."
While there, Schwarzenegger and Corden revisited Arnold's iconic film oeuvre and acted out scenes from a whole slew of his famous flicks.
What's more, they did it in only six minutes.
The pair acted out tiny portions of films like "Junior," "True Lies," "Jingle All the Way," "Terminator 2" and "Predator."
They even had Arnold as Mr. Freeze from "Batman & Robin."
It seems like Arnold is back in the game and doing all he can to make us forget about this. Good luck with that one, Arnie.