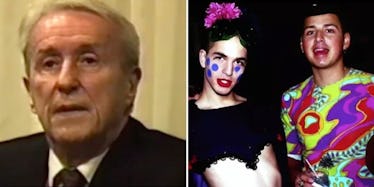 Real-Life Horror Documentaries That Will Scare The Sh*t Out Of You This Halloween
Netflix
Calling all ghouls and goblins: It's the most spooktastic time of the year and — as Halloween approaches slowly but surely — now is as good a time as any to start binge-watching scary documentaries on Netflix. Of course, throughout the month of October, most television networks have all the best Halloween staples on standby; I'd be lying if I said I hadn't spent the better part of many October weekends flipping between Friday the 13th, Halloween, and A Nightmare on Elm Street (all while covering my head with a blanket, of course). This year, though, the insane list of terrifying documentaries on Netflix is the way to go if you want to be truly scared sh*tless.
As is always the case when it comes to Netflix, there is so much to choose from this Halloween. Whether you're into true crime documentaries or specials that look into supernatural phenomena, you'll be able to find something to creep you out on Netflix. One thing is for sure no matter what you choose, though: You're going to be terrified. Horror movies are terrifying, yes, but nothing sends chills up your spine like real-life horror stories. My advice? Watch during the day... with the lights on... and the doors locked.
Hostage To The Devil (2016)
This documentary looks into the true story of Father Malachi Martin, a priest whose beliefs in demonic possession. This obsession led him to perform a series of real-life exorcisms. If you think The Exorcist is scary, you're in for a surprise.
H.H. Holmes: America's First Serial Killer (2003)
If you're into stories about serial killers, look no further. This bone-chilling documentary focuses on H.H. Abrams — famously known as America's first serial killer — who had a torture chamber built into his Chicago home in the 1880s. There's no way you'll be sleeping with the lights off after this one.
Paranormal Survivor (2016)
Through a series of interviews and reenactments, victims of paranormal encounters relive their experiences with the occult in this sinister documentary. In other words, this is a real life Paranormal Activity.
The Nightmare (2015)
This special doesn't focus on serial killers, murder, or the supernatural, but that doesn't mean it isn't terrifying. Instead, The Nightmare explores sleep paralysis, a frightening condition that renders its victims unable to move while they're "asleep."
The Real Texas Chainsaw Massacre (2009)
As the title suggests, this documentary focuses on the heinous crimes said to have inspired the cult classic horror film The Texas Chainsaw Massacre. This is definitely one you'll be watching through your fingers.
 Holy Hell (2016)
A Sundance Film Festival open selection, this searingly honest piece delves into cult life as it explores one insider's take on a 1980s West Hollywood cult that deteriorated. More creepy than terrifying, this one will definitely leave you in shock.
Glory Daze: The Life and Times of Michael Alig (2015)
Glory Daze explores the wild New York City nightlife of the '90s and closely examines the chilling story of one popular club kid named Michael Alig, who famously killed and dismembered a rival club goer. It looks fun from the cover, but it gets dark quickly.
Sleepwalkers Who Kill (2001)
This is a short one at only 47-minutes. Sleepwalkers Who Kill is terrifying in its exploration of a condition turned deadly.
Aileen: Life And Death of A Serial Killer (2003)
This true crime documentary explores the story of Aileen Wuornos, a woman considered to be America's first female serial killer.
Jack The Ripper: Prime Suspect (2012)
This documentary looks at the London serial killer Jack the Ripper's heinous murders, but there's a twist: More than a century after these murders were committed, new forensic evidence points to a possible new suspect.
Check out the entire Gen Why series and other videos on Facebook and the Bustle app across Apple TV, Roku, and Amazon Fire TV.