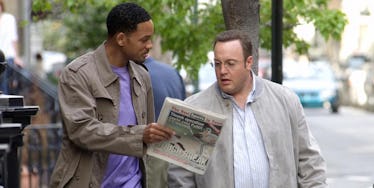 10 Movies To Reignite Your Love In Will Smith Before Seeing 'Focus'
Sony Pictures
Will Smith is at it again. With a long career of successful movies behind him, it's no surprise his latest movie, "Focus," blew up this weekend.
Those of us who are not into the "Fifty Shades of Grey" madness were happy to see "Focus" take the number one seat in the box office the first week of its release.
The film gained $19.1 million this first weekend, bumping "Fifty Shades" down in rankings.
While it earned less than normal for Smith's films, it was still enough to get ahead of the BDSM drama.
"Focus" follows the story of Smith's character, Nicky, an experienced con artist, who begins mentoring newcomer, Jess, played by Margot Robbie.
As Nicky teaches Jess the ropes of what it takes to become a good con artist, the two become romantically involved. When Jess becomes uncomfortable with the relationship, Nicky ends it.
Fast-forward three years later: Nicky is working in Buenos Aires when a now-very-experienced Jess shows up.
Her appearance throws him off during the one time he cannot lose focus.
To celebrate the success of "Focus," here is a list of the top 10 Will Smith movies you need to see right now.
From comedies to mysteries to sci-fi thrillers, Smith's acting repertoire has something for everyone's taste.
"I Am Legend" (2007)
Set in New York City, Smith portrays the sole survivor of a plague that has killed most of society and turned the rest into monsters.
As he survives, Smith's character also tries to find a cure to reverse the affects of the monsters.
"The Pursuit of Happyness" (2006)
This story follows a struggling salesman who gains custody of his son and is determined to make a life-changing professional endeavor.
Will Smith's son, Jaden (now an accomplished musician and actor in his own right), plays the role of the son in this movie. Talk about a true dynamic duo.
"Men in Black" (1997)
The success of this favorite spurred multiple sequels after its release.
Will Smith plays a street-smart detective who joins a secret organization that controls extra-terrestrial matters on Earth.
"7 Pounds" (2008)
This emotional story is bound to have you in tears by the last act.
Smith plays a man with a momentous secret who seeks redemption by dramatically changing the lives of seven strangers forever.
"Hitch" (2005)
Smith goes back to his comedy roots in this movie. He plays a "date doctor" who has made a profession of helping his clients to woo the objects of their affection.
However, Smith's character hits a roadblock when he finds his tricks don't work on the gossip columnist with whom he's smitten.
"Independence Day" (1996)
Although this movie is almost 20 years old, it continues to be a fan favorite. In this sci-fi thriller, aliens are invading planet Earth to invade and destroy.
Up against superior technology, society's only weapon is the determination to survive.
"After Earth" (2013)
Smith and his son, Jaden, partner up once again for this family-friendly movie. A crash leaves a father and son duo stranded on Earth a millennium after events forced humankind to leave.
When the father becomes injured, the son must embark on a dangerous solo journey to find help.
"I, Robot" (2004)
Set in 2035, Smith plays a technophobic cop who begins investigating a crime that may have possibly been committed by a robot. In the process, Smith's character eventually unveils a larger threat to humankind.
"Bad Boys" (1995)
This is yet another Will Smith film that spawned a sequel. This action film follows two detectives who are in charge of protecting a murder witness and solving a case of stolen heroin.
Smith brings his comedic charm that will, once again, have you laughing out of your chair.
"Six Degrees of Separation" (1993)
This is some of Smith's earliest work. The movie follows the story of an affluent couple who have their lives interrupted when Smith's mysterious character appears.
"Six Degree of Separation" will have you guessing the ending the whole way through.
After you see "Focus" for yourself, you now have a whole list of movies to get your Will Smith fix until his next movie is released.
Spend a weekday night in by yourself with Netflix and popcorn and see how long it takes you to get through all these movies.