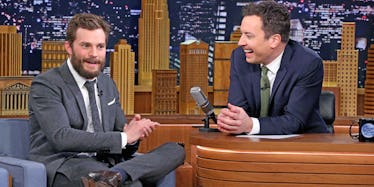 Jamie Dornan And Jimmy Fallon Read 'Fifty Shades' In Hilarious Accents (Video)
"Fifty Shades of Grey" comes out this Friday. So, the man playing Christian Grey, Jamie Dornan, visited Jimmy Fallon and "The Tonight Show" to promote the film.
While there, Dornan played a game titled "Fifty Accents of Grey" with Fallon.
Each man was assigned an accent and had to read a line from "Fifty Shades of Grey" in a given accent.
Dornan ran away with the competition as his Scottish and French accents were light-years better than Fallon's Italian and Russian ones.
Check the clip out up top.