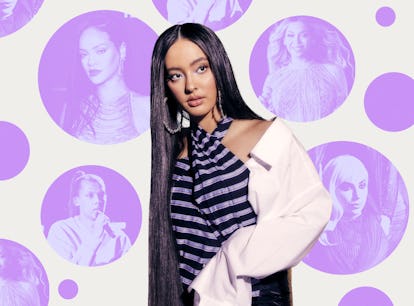 Singer-Songwriter Faouzia Wants To Create Art, Not A TikTok Moment
"I don't want people to discover something that isn't me."
In Elite Daily's series Early Influences, musicians reflect on the songs and albums that left a lasting impression on them in their formative years. Here, singer-songwriter Faouzia shares why she doesn't make music for TikTok, and how Beyoncé, Rihanna, and Lady Gaga inspired her.
When Faouzia starts feeling a smidge uncomfortable, she takes it as a sign that she's onto something great. "The second that I feel comfortable is the second I know I should take a step back and find uncharted territory to explore," the singer-songwriter tells Elite Daily. "I just want to create moments in time with my albums."
In June, Faouzia kicked off her "Doll Summer" era with danceable, club-ready singles "Don't Call Me," "Plastic Therapy," and "La La La" — all perfect send-offs to an ex, thanks to her empowering lyrics. Next came the bubbly, Y2K-inspired "IL0V3Y0U," which she released on Sept. 8. "I don't wanna make this difficult / Don't wanna make it complicated / Let's hang up before I say it, bébé I, I think that I might / Might L-O-V-E Y-O-U," she sings in the catchy chorus.
These days, Faouzia splits her time between Los Angeles and Canada, where she grew up. Fluent in English, Arabic, and French, the 23-year-old Moroccan-Canadian singer plays the piano, guitar, and violin and even counts David Guetta, Kelly Clarkson, and John Legend as past collaborators. But she got her start by covering popular songs on YouTube, which led to her 2015 debut single "Knock on My Door." With two EPs (2020's Stripped and 2022's Citizens) under her belt, Faouzia is now busy writing her debut album with the goal of releasing it in 2024. Just last year, she wrapped up a 21-city tour supporting her Citizens EP.
Along with music, Faouzia's Muslim faith is a huge part of her identity, and advocating for more Muslim female singers in the mainstream music landscape hits close to home for her. "I just want somebody to see that you can stay true to yourself and stick to your morals and beliefs, whatever they are, and do what you want to do," she says. "I always do meet-and-greets at my shows, and people from all walks of life tell me, 'Seeing you do what you love in the way that you want to do it, it really inspires me to do whatever I want in life the way that I want.'"
Faouzia has 3.5 million followers on TikTok, where many artists and musicians find overnight success, but she isn't worried about chasing a viral moment. "I know it may take longer for people to discover the music, but I can't write to create a TikTok moment, I write to create art ... [TikTok] is fleeting and it's not who I am," she says. "Once [my music is] on the internet, it's on there forever so people can discover it years from now, but I don't want people to discover something that isn't me."
Below, Faouzia tells Elite Daily about the artists who've shaped her sound, inspired her to think bigger, and made songs she wishes she'd written.
Rihanna
Like many fans, Faouzia joined the Rihanna Navy upon first hearing the Barbados-born entertainer's debut single, "Pon de Replay," in 2005.
"Normally, I discover artists later on in their career, but I was born in 2000, so I had the chance to experience Rihanna's whole journey from the beginning, which was super fun," she recalls. "I was obsessed with her voice and the emotion you could feel through her songs. She's just so confident and she glows, and you could tell that from the start."
Faouzia was one of the nearly 110 million people who tuned into Rihanna's Super Bowl halftime performance this year, which she described as a "true testament to her discography," but her most prominent memory of the superstar is witnessing her first self-reinvention à la 2007's "Umbrella" video. "I don't even know if I was old enough to remember things, but I remember that," she says with laughter.
In addition to admiring RiRi's ability to glide effortlessly across different genres, Faouzia felt drawn to her on a personal level as someone who also emigrated to the U.S. to pursue a dream. "I took inspiration from her and was like, 'It really is your drive and your passion that'll get you to where you want to be,'" Faouzia says about being born in Morocco and raised in a small, rural town in Canada. "It may take longer and it may take more effort, but once you build that foundation and your career brick by brick, nothing can tear it down. Rihanna is an example of that."
Lady Gaga
Faouzia was captivated by Lady Gaga's early hits like "Just Dance" and "Poker Face," but there's something special about "Paparazzi" to her.
She took a concept that's honestly so creepy and eerie, but she made it sound like a beautiful, dramatic pop song.
"What I love so much about 'Paparazzi' is that the chorus sounds like a light pop song, but the verses are very dark and edgy," she says. "She took a concept that's honestly so creepy and eerie, but she made it sound like a beautiful, dramatic pop song ... It's one of the songs that I wish I wrote."
Naturally, Faouzia gushed over Gaga's shocking 2009 VMAs performance of "Paparazzi," which garnered audible gasps from the crowd when she sang the bridge as fake blood poured down her body. "She literally had everyone so shook. It was something that no one had ever really seen before," she says. "She brought her true self to pop and she was so out of the box. It just was so intriguing to watch her because you never knew what was going to happen next."
She's also in awe of Gaga's transition into Hollywood with starring roles in A Star Is Born and House of Gucci. "When you are a true artist, your options are endless," she says. "You can just keep doing this forever because there's so many worlds to explore."
Stromae
Faouzia discovered Belgian singer Stromae's music in an unexpected way. She attended a French school, where students couldn't listen to anything other than French music.
"Hearing Stromae make incredible pop music in French is what really caught my attention because I had never heard pop music in that space before," she says. "I also just think he's a musical genius and I'm incredibly inspired by his creative vision and how he produces his music. This pushed me to explore the world of production and dive into producing my own music as well."
She also finds his director credits, including "Run Up" by Major Lazer featuring PartyNextDoor and Nicki Minaj, impressive. "He goes by an alias when he's a director, and so I found it super cool that he was just branching out and making videos," she says. "He produces, he writes, he does everything."
Beyoncé
When Beyoncé dropped "Crazy in Love," Faouzia was only 3 years old, but she remembers the moment like it was yesterday. "I remember her in the white tank top just strutting," she says about the accompanying video. "I was like, 'Yeah, she is her.'"
Faouzia didn't have vocal lessons growing up, so she studied Beyoncé's four-octave range from a young age. "I like to say that Beyoncé was my vocal teacher because I would literally listen to her music and sing along, and [it was] incredibly difficult because she would do the most intricate runs," she says.
When she has an idea, she creates a whole universe around it.
It's why Beyoncé's I Am… Sasha Fierce album, which spawned big ballads like "If I Were a Boy" and "Halo," reigns supreme for her. "I can play it from start to finish and be obsessed with every single one of the songs," she says. "[That album] was her big pop diva vocalist moment, so her vocals were shining, and that's why I really love it."
As a rising artist, Faouzia finds Beyoncé's refusal to rest on her laurels inspiring to watch. "With every step in her career, she just keeps getting better and better. When she has an idea, she creates a whole universe around it," says Faouzia, who caught Queen Bey's Renaissance show in Toronto. "Performing is an art form to her, even down to the smallest of details, so I want to do that as well with my live performances and really bring my creative vision to the max."