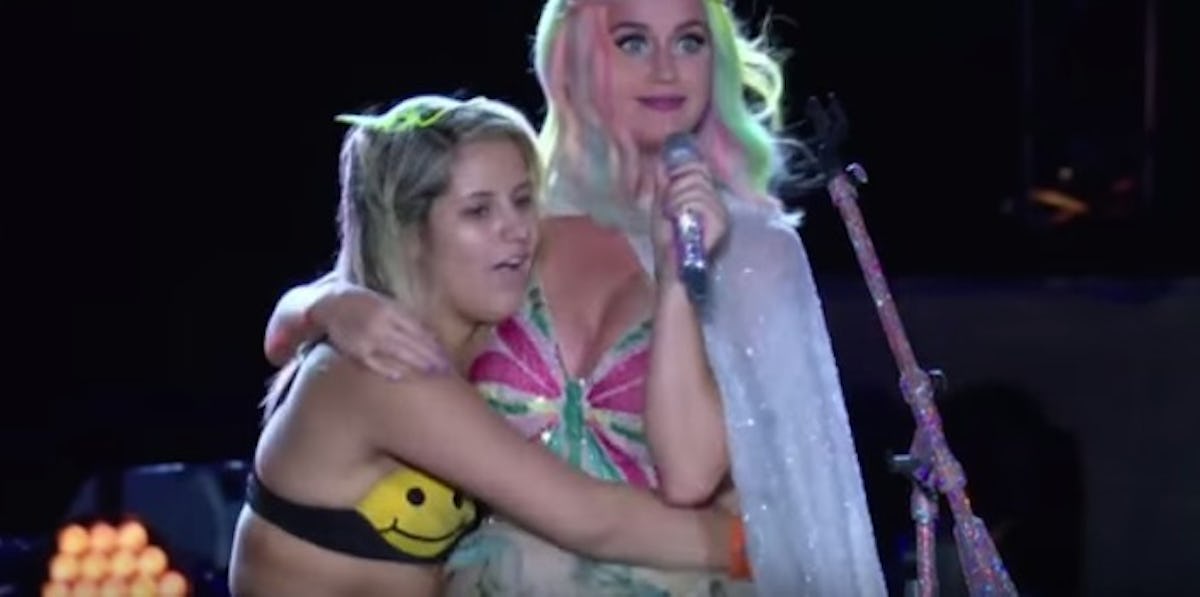 This Crazy Fan Basically Groped Katy Perry On Stage During A Concert (Video)
I have a new celebrity goal of getting to a point where if I bring a fan on stage with me, he or she is immediately rendered completely speechless -- or as I now call it, "Pullin' a Perry."
At a recent concert in Rio, a lucky Katy Perry fan was given the opportunity of a lifetime when she was brought on stage to share a few moments and a brief lesson in Portuguese diction with her idol.
The only problem, though, is Rayane -- I'm assuming that's her name based on the video title and not the garbled, breathy yells that came out of her mouth when Katy asked what her name was -- had no chill and spent the entire time on stage awkwardly feeling up Perry or trying to kiss her.
It got weird.
Eventually, the feral "Katy Kat" did get a selfie with Perry.
A LINGUINHA DELA DJSJDJAJDUDKSKDQIJDNS pic.twitter.com/HoN1s8lQ8U — rayane (@wtfkates) September 30, 2015
By the way, totally unrelated, I'm loving Katy Perry's tropical ice queen outfit. Temperature wise, it makes no sense; the tropics and ice normally don't go together unless it's in a pineapple shell with Bacardi. But the combination works well here. Good job.
Anyway, this video is awkward, Rio seems scary and the Portuguese word for pizza is pizza.
Go figure.