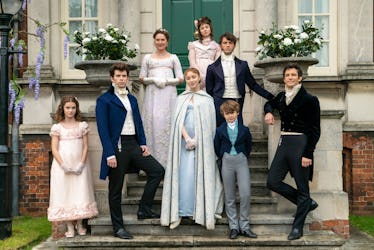 Every Single 'Bridgerton' Sibling, Ranked By How Much I Want Them In My Family
Netflix
Netflix's Bridgerton series is one of the most family-centric love stories on the streamer. Despite being based on a romance novel, The Duke & I, whose protagonists are Daphne and Simon, this is a story about love in all its forms. Arguably the most important of those is the love of family, which the Bridgertons have in spades. The eight siblings' ages span almost 20 years from oldest to youngest, but they are tight-knit and loyal, the kind of siblings you would want in your own family. Well, most of them are, at least. When it comes to ranking the Bridgerton siblings, some would be better brothers and sisters than others.
By the end of Bridgerton Season 1, the Bridgerton family has expanded by one, as Daphne's new husband Simon joins the crew. The Duke of Hastings might seem a bit standoffish to those who don't know him, but Daphne picked well when choosing who to add to the mix. Because Simon's not used to having siblings, he finds the family's energy joyful. The novelty of hanging out with younger kids who will look up to him means Hyacinth and Gregory's immature antics get a pass. And finally, his standing in society — and his willingness to use that standing to benefit others — makes him a great friend to all the Bridgertons.
But are the Bridgerton siblings catches, as well? Let's run down where each of them stand, based on how much I want them in my own family.