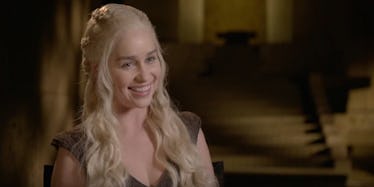 Emilia Clarke Says She'd Love Some Lesbian Action With This 'GOT' Character
YouTube
The internet needed one, giant, gross cold shower after Sunday night's episode of "Game of Thrones" delivered some sexy flirtation between Daenerys Targaryen and Yara Greyjoy.
Now, Khaleesi herself, aka Emilia Clarke, has spoken out about the couple everyone seems to be shipping.
In a behind-the-scenes interview with both actors, posted by HBO, Clarke shared,
There's mild flirtation, which is exciting, to say the least. I mean, get rid of Daario, bring on the ladies. Why not?
Do it, Dany! Do it for those of us who had to sit through all of the series' past sad, weird, violent or reluctant sex scenes! Do it and let the strength and power of two strong female characters burn Westeros to the ground! DO IT!!!
In a separate interview with "Good Morning Britain," Gemma Whelan, who plays Greyjoy, admitted she's rarely recognized IRL for her role on the HBO show.
That may all change rapidly if Greyjoy is written into a central romance on the show, especially if it's the first queer central romance featured on "GoT."
Keep your fingers crossed, Yarnerys shippers. Your wildest dreams may very well come true.
Citations: Emilia Clarke is totally up for a lesbian romance on Game Of Thrones Read more: http://metro.co.uk/2016/06/21/emilia-clarke-is-totally-up-for-a-lesbian-romance-on-game-of-thrones-5957717/#ixzz4CEYM6xf2 (Metro)