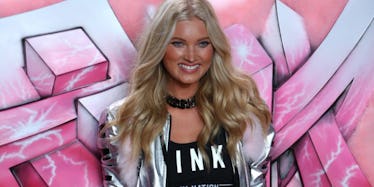 Victoria's Secret Model Gets Real About Working Out And Her Love For Pizza
Shutterstock
Victoria's Secret Angel Elsa Hosk is beyond flawless.
The 27-year-old Swedish model is constantly slaying high-end photo shoots and magazine covers like the goddess she is. You go, girl!
In a new interview, Elsa revealed to ELLE the very first place she wanted to hit up when she arrived in the United States as a teen.
Can you take a guess?
Victoria's Secret.
Elsa said,
I wanted to get all the different body lotions because the smells were so amazing… And here I am being the face of one. It's really crazy.
Dreams really do come true.
Elsa also got super real about health and wellness.
This Victoria's Secret Angel is not about an intense five-day juice cleanse, but she did open up about her deep love for carbs.
Most specifically, Elsa said,
There is nothing I love more than pizza.
Seriously though, PREACH, girl. I think we're all about that life.
As far as the type of fitness routine she enjoys...
I'm so high energy and so I like a lot of workouts that are super high intensity, like boxing.
The gorgeous model referred to a seriously intense class offered at Equinox. It's called 30/60/90, spotlighting burpees, squat jumps and push-ups.
When Elsa isn't being hardcore, she takes a rejuvenating approach, focusing on the mind and body.
I meditate and do yoga and do very calming things like that. I like yoga because it's very hard for me to do.
There you have it — Elsa Hosk is working out while giving us major #Fitspiration, killing it in the modeling industry AND she shares a passionate love for pizza, like us all.
Citations: Here's Why Victoria's Secret Angel Elsa Hosk Is Addicted to Glitter and Pizza (ELLE)