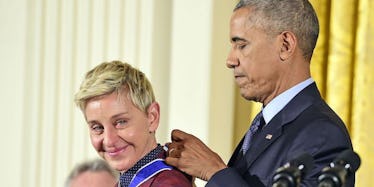 Ellen DeGeneres' Tribute Video To President Obama Will Make You Miss Him Already
REX/Shutterstock
Those of you who spent your work day scouring YouTube for Obama tribute montages set to Edwin McCain's "I'll Be" while wiping away tears with your 2012 "Forward" tees might want to take a lap before diving in to the mini retrospective Ellen DeGeneres shared on her show on Thursday afternoon.
Nope? No break? You wanna sob straight through your Thursday?
Respect. Let's go.
Ellen showered viewers of "The Ellen DeGeneres Show," with sweet, hazy memories of the past eight years and praised the 44th president of the United States for his efforts during his two terms.
The host said,
Today is the last day that Barack Obama will be our president. I want to personally thank him for changing my life. I am a legally married woman because of him and so is my wife. His courage and compassion created equality for everyone. He moved us forward and made more happen in the past eight years than I ever dreamed possible.
She shared a video of the Obama family's appearances on the show and funny bits featuring Barack, Michelle and even little Bo.
At no point was Edwin McCain's "I'll Be" utilized, which stood prominently as the only real flaw in an otherwise touching tribute.
After sharing the video with viewers, Ellen thanked President Obama and First Lady Michelle "for everything," including their support of same-sex marriage.
In a throwback clip, Ellen praised Obama's bravery, telling her audience,
There have been moments in history when someone has had the courage to stand up for what they believe in and that one action changes everything and I hope that this is one of those times. It takes a brave man to take a stand like this. So, to you Mr. President, I say thank you very, very, very much.
We all owe Obama a debt of gratitude for his eight years of service, assuring the rest of us we could avoid taking on that level of responsibility.
Citations: Watch Ellen DeGeneres's Heartfelt Tribute to President Obama: 'I Am a Legally Married Woman Because of Him' (TIME)