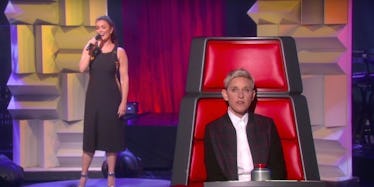 Ellen Had Her Own 'The Voice' Auditions And Totally Crushed It As Judge (Video)
I have to admit, "The Voice" is one of my all-time favorite TV shows. It's suspenseful AF because you never know if the judges will click their big buttons and turn their chairs around.
I think anyone who watches the show secretly wishes he or she owned one of those red, spinning chairs. THEY'RE SO COOL. Come on, you know it's true.
Ellen DeGeneres gets me. In a recent episode of "The Ellen DeGeneres Show," Ellen discussed her love for "The Voice" and mentioned she plays her own version of "The Voice" with her spouse, Portia de Rossi. In the couple's version of the game, the judge turns away from the singer during the audition and tries to guess the appearance of the contestant based only on his or her voice.
Ellen loves the game so much, she decided to host her own "The Voice" auditions. A few not-so-random contestants showed up to blind audition, and Ellen did her best to guess what they looked like.
The game was definitely tricky, but eventually, John Legend gets on stage, and Ellen knows what's up.
Oh, and the best part? She got to sit in her own "The Voice" chair. Dammit, Ellen, you're living my dream.
You can watch the full auditions in the clip above.