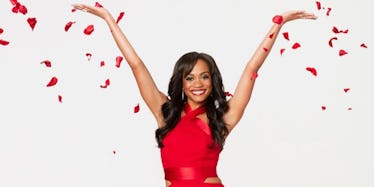 Here's Everyone Who Got Eliminated On The First Episode Of 'The Bachelorette'
Getty
The first episode of Bachelorette Rachel Lindsay's quest to find love ended Monday night with some very sad faces.
Out of the 31 contestants who introduced themselves to Rachel at the start of the show, eight were eliminated.
Blake K., Grant, Jedediah, Michael, Kyle, Milton, Mohit, and Robert were the first unlucky group to go home.
Sure, we're all sad to see some of these handsome eligible bachelors go, but we also shouldn't let it get us down because the majority of us have zero connection to these people and letting it affect your life on a personal level is honestly kind of weird... but I DIGRESS.
Please scroll through the photos of this sad group of eliminated bachelors with "Bad Day" by Daniel Powter playing softly in the background.
Blake K.
Not to be confused with Blake E., who still remains on the show. One girl can only handle so many Blakes!
Grant
Jedidiah
Michael
Kyle
Milton
Apparently Rachel isn't a fan of deep V's.
Mohit
Robert
So, sadly these men are out for good, but on a happier note, we can confirm Rachel Lindsay does indeed find love by the end of the season.
Rachel told the world she's happily engaged in a press call, according to People, in which she gushed about her new fiancé without giving away any names.
I am very much so in love and very much so engaged… I am getting my happy ending!
You go, girl!
Rachel gave her first rose to Bryan, who wooed her with his bi-lingual tongue, literally.
Rachel had quite the night, she met a penguin, a guy from her high school, a Whaboom (jury is still out on what that is exactly), and a Tickle Monster. It was a good time had by all.