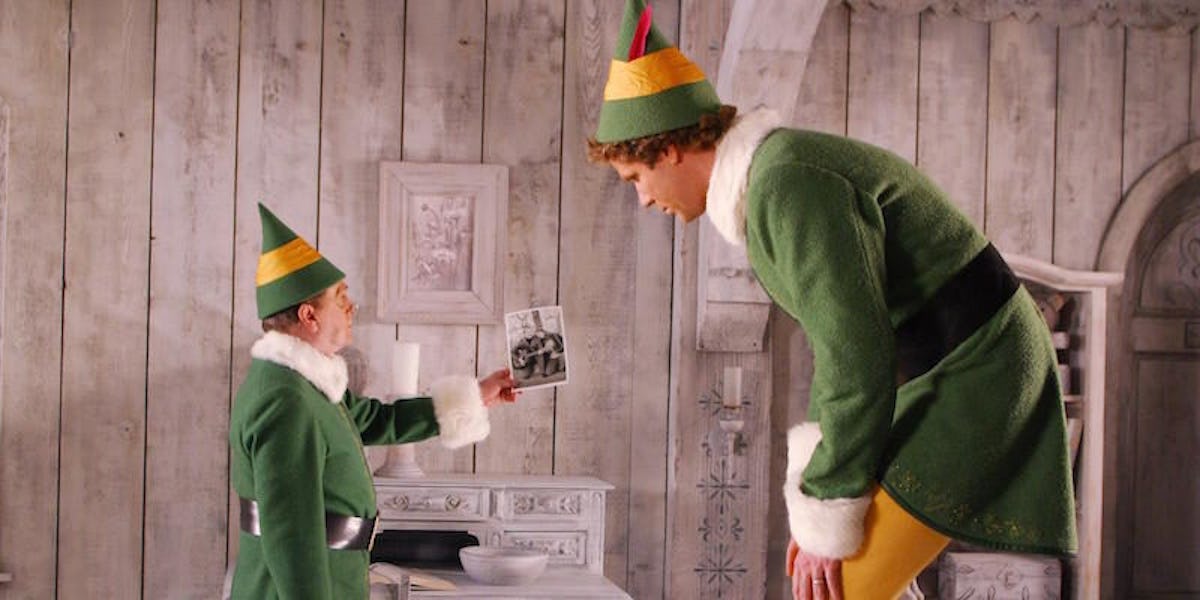 10 Reasons Why 'Elf' Is The Best Holiday Movie Of All Time
New Line Cinema
Since the dawn of cinema, there are few movies that can make it in the classic holiday movie canon.
You can search the Internet's endless lists of "Best Holiday Movies," only to find the same 50 titles, from "It's A Wonderful Life" to "The Santa Clause."
But then there is "Elf."
Operating in a space that is completely its own, "Elf" introduced a story that had never been told before, and was able to create a modern holiday movie that was actually funny and heartwarming all at the same time.
With a hilarious protagonist (Will Ferrell), a scrooge with a lesson to learn (James Caan), claymation holiday characters, laughter, tears and family, this one has it all.
It might follow the predictable arc for its genre, but it is Ferrell's unforgettable performance as a confused human elf man-child that has turned "Elf" into one of the best holiday movies of all time.
Here's why:
1. It is very quotable, any time of the year.
"Son of a nutcracker!" "The best way to spread Christmas cheer is singing loud for all to hear." "World's best cup of coffee!" "Buddy the elf what's your favorite color?!" "Francisco- that's fun to say! Francisco… Fran-CISCO."
You get the idea.
Need a solid Instagram caption? "Elf" has your back.
2. Tyrion Lannister makes a cameo.
Peter Dinklage, best known for his role as Tyrion Lannister in "Game of Thrones," makes a cameo as a diva author.
Dinklage's no-nonsense character, Miles Finch, comes head to head (quite literally) with Buddy when he calls him "an angry elf." It's better than any fight scene in "GoT."
Just kidding, but it's definitely funnier.
3. It has the most perfect first date scene ever.
Finding the biggest Christmas trees in NYC shop windows, ice skating and Frank Sinatra singing in the background ... what more could you want?
Zooey Deschanel and Will Ferrell are the least-likely movie couple out there, but this scene makes their romance oh-so-adorable.
4. You'll question the way you eat your spaghetti.
Did anyone else think that maple syrup and Pop-Tarts didn't look too awful on cold spaghetti?
5. It was turned into a musical.
The only thing that could have made "Elf" better was more singing, right?
Well now you can see that in "Elf: The Musical."
6. It turns any cynic's heart warm.
From adults and children who don't believe in Santa, to critics and New Yorkers, this movie will make everyone feel things.
In 2003, New York City was still recovering from the tragedy of 9/11.
The United States didn't think it was ready for a whimsical comedy based in the city that was still so fragile, but "Elf" succeeded in bringing smiles to the faces of those who were still finding it hard to enjoy the holidays.
7. You realized your decorating skills are sub-par.
When Buddy decorates the entire department store with paper garlands, Etch-A-Sketch's and Legos, you suddenly realize you will never be that good at decorating.
8. You've never thought it was so cute for a guy to sneak into a women's bathroom.
Seriously, in any other movie it would be deemed super creepy for a guy to go into a woman's bathroom to sing a duet with his love interest who is showering.
But when that person is Buddy and they are singing "Baby It's Cold Outside," it's pretty innocent and adorable.
9. Arctic puppets.
The North Pole brings back childhood memories of claymation holiday characters, like Leon the Snowman from the original "Rudolph" movies.
This genius move adds another layer of nostalgia to the film.
10. Because watching Buddy accidentally get drunk is amazing.
And then he proceeds to dance on a mail room table.
This scene is pure gold.
Twelve years later, Elf is the "Mean Girls" of the holiday movie space: quotable and eternally hilarious.
So grab a buddy (no pun intended), some hot cocoa and get ready to laugh your way through the holidays.