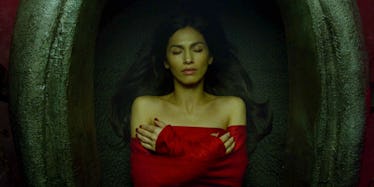 How Did Elektra Die On 'Daredevil'? Quick Refresher Before 'The Defenders' Airs
Netflix
We all know The Defenders is going to be all about Daredevil, Jessica Jones, Luke Cage, and Iron Fist, but there's a fifth returning superpowered character that will also be playing a huge role in the new team-up series. Daredevil introduced Matt Murdock's thrill-seeking, martial artist ex-girlfriend Elektra Natchios in its second season, and despite her death at the end of the season, it's pretty clear Elektra will be back in a big way in The Defenders. Before you get into The Defenders on Friday, August 18, here's a little refresher on what you need to know about Elektra's past, and what her return means for the gang.
Viewers first met Elektra halfway through Season 2 of Daredevil. In a ten-year flashback, we see when Matt Murdock first met Elektra, and how they developed a relationship over their shared abilities. However, a rift quickly developed between the two when Murdock refused to use his powers to kill others, something Elektra didn't think twice about. When Elektra returns to Murdock's side in the present-day storyline of Daredevil, it's this difference in how they wield their similar powers that continues to drive them apart.
Though she helps Daredevil fight villainous ninja organization The Hand, Elektra's penchant for killing continues to unnerve and cause doubt in Murdock. In the end, Hand ninja Nobu Yoshioka reveals to Elektra that she is actually a powerful force for The Hand known as Black Sky, and it's because of this that she has such an affinity for murder. During an attack by The Hand, Elektra sacrifices herself to save Daredevil from dying, and she dies herself. However, The Hand gets ahold of her body and resurrects her.
As the trailer for The Defenders shows, Elektra's death didn't seem to stick. A brief glimpse in the trailer shows Elektra back in fighting form, but not on the side of good — she's actually roughing up her old ally Daredevil. It seems clear The Hand resurrected Elektra so she could become Black Sky, their weapon against the Defenders. So yeah... it's not exactly going to be a nice reunion.