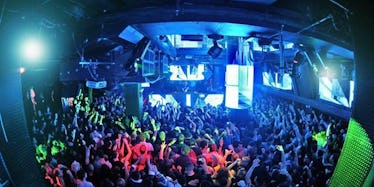 How To Change A City: 10 Lessons In Success From Nightlife Mogul Eddie Dean
Pacha NYC
"Have you ever heard of Dirty South? He's playing at Pacha tonight."
It was a typical summer Saturday in my suburban town when I got a curious text from one of my older friends. Nineteen and desperate to impress him with my music knowledge, I quickly replied, "Duh, I love him! I'll be there."
With the thoughts,"What the heck is a Dirty South?" and "Is Pacha even a word?" running through my head, I boarded a train to NYC, praying Google Maps would guide me to my destination.
I didn't know it at the time, but Pacha NYC was so much more than just another Manhattan megaclub where people could dance until sunrise. It was the home of electronic dance music in the Big Apple and a symbol of what it meant to be successful in nightlife.
In 2005, the brand Pacha was first introduced to the states by nightlife connoisseur Eddie Dean. While many New Yorkers were still heavily immersed in the Peter Gatien era of nightlife (RIP Limelight), Eddie ventured to the world's dance music capital, Ibiza, Spain, in search of something different from the typical lounges and clubs he was used to operating. It was here he found Pacha and decided it was exactly what NYC was missing.
Fast forward 10 years and Pacha NYC proudly stands as one of the most successful nightclubs in the city. With a diverse form of music programming, Pacha is not only a place for people to discover new styles of music but to experience the culture behind each of them as well.
It's no surprise, then, why it came as such a shock when owner Eddie Dean announced Pacha NYC would be closing its doors for good this January. In an industry where most clubs only last 18 months, we needed to find out for ourselves what magic Eddie had up his sleeves that made Pacha's success last for an entire decade.
Here's what he had to say:
1. No shortcuts
There are no workarounds -- it's a grind day in, day out. There's always someone working harder than you. Treat every weekend like a grand opening. You're only as good as your last party. What are you going to do to make this one even better?
2. Thought-out and dedicated marketing is essential
You can't do this alone. You need a team that understands the subtle (and sometimes not-so-subtle) intricacies of promoting a nightclub. A team that can hand out a flyer in the freezing New York winter but can also maintain and execute on one of the world's biggest customer databases. Above all, you need passion.
3. Know where to look for the best talent
Strong ties to Ibiza helped Pacha NYC get the jump on the competition in our early years. We tapped into the up-and-coming European artists long before the dance music boom. Nowadays, you need to keep your ear not only in the streets around the world, but in the depths of the Internet to find new talent.
4. Take risks
You'll never be more than average until you take the big risks. You cannot be afraid to make decisions and take chances.
5. Be creative
You have to see things differently and be ready to present and package your product in ways completely outside of the norm. It's your duty to keep things fresh and provide the best experience for your customer. Everybody can just go out and buy cold beer for a party; you really need to be innovative if you want to succeed.
6. Develop a strong operations and security team
A loyal and sincere staff that will work hard to create a clean and safe environment is critical. Throughout history, many great clubs were ruined by bad security.
7. Understand the importance of community relations
The community existed before you and will continue on well after. Respect your neighbor.
8. Embrace the new but never forget the old
Support new talent, new ideas and new visions. Take the time to understand the current climate. In this age, trends come and go in the blink of an eye -- it's up to you to identify and nurture the right ones. You're never too old to learn from the new. Respect history. Learn from the past. Never make the same mistake twice. You can learn just as much from the mistakes of others as you can from your own.
9. Always have good lawyers on call
'Nuff said. Haha.
10. Know and accept when it's over
After a 'decade of dance,' we just felt it was the end. We wanted to close Pacha gracefully and go out while we were still on top. When we sent the press release regarding the closing, we got the biggest reaction to any announcement we've ever made. I underestimated how much Pacha meant to a lot of people, and it made me feel really great about what we had accomplished. The time was right. No regrets.
Although the club may be closing its doors for good, Eddie Dean makes it clear his career in nightlife is far from over:
Me? Retiring? I may have five clubs this time next year! I just want to take time to think about things and see what's next.
This Saturday, January 23, Pacha NYC will host its final party, The End, with performances from electronic music superstars Sebastian Ingrosso and Danny Tenaglia.