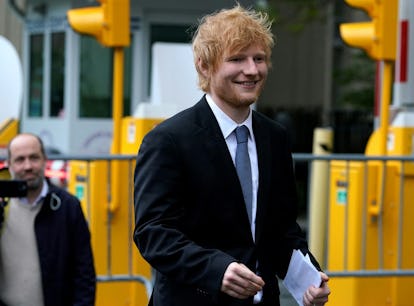 Ed Sheeran Won His Second Copyright Lawsuit For "Thinking Out Loud"
The track has had quite the moment in court this year.
TIMOTHY A. CLARY/AFP/Getty Images
Ed Sheeran has scored another legal win. Less than two weeks after a jury ruled that Sheeran's 2014 hit "Thinking Out Loud" did not plagiarize Marvin Gaye's "Let's Get It On," the singer won a second lawsuit pertaining to the two tracks. According to Variety, New York judge Louis L. Stanton (who oversaw Sheeran's first lawsuit) dismissed the second case on May 16. This decision allowed the case to not go to trial.
This winning outcome reportedly differs from Stanton's original ruling that Sheeran would need to face a jury in the second case. As for the actual lawsuit, it had been on the horizon for a while. In 2018, Structured Asset Sales LLC — a company that has a copyright interest in Gaye's 1973 classic — filed this second lawsuit against Sheeran, alleging "Thinking Out Loud" had "striking similarities" to Gaye's song. Late singer and songwriter Ed Townsend helped co-write "Let's Get It On," and according to Pitchfork, Structured Asset Sales' CEO, David Pullman, owns one-third of the copyright to Townsend's catalog.
That same year the lawsuit was filed, entertainment publication Consequence created a side-by-side comparison of the two songs to help flesh out the claims. As heard in the video, the parts Sheeran allegedly copied from "Let's Get It On" seemingly lies in the track's groove and melodic buildup to the chorus.
In Tuesday's verdict, Stanton ruled the similar sonic elements heard on both tracks were "too common" for copyright protection. "It is an unassailable reality that the chord progression and harmonic rhythm in 'Let's Get It On' are so commonplace, in isolation and in combination, that to protect their combination would give 'Let's Get It On' an impermissible monopoly over a basic musical building block," Stanton wrote in the court document obtained by Pitchfork.
The verdict for the first lawsuit against Sheeran also had the same result. That time, it was Townsend's family who filed the case. In this lawsuit, which took place in late April, Sheeran defended himself from the claims by showing how he created "Thinking Out Loud." About an hour into the testimony, the singer reportedly grabbed his guitar and strummed the song's chords. According to The Hollywood Reporter, Sheeran revealed he "used his own version of phonetics" to help him write multiple tunes a day, including "Thinking Out Loud."
Before the first lawsuit was dismissed, the British singer seemed apprehensive about his career. At one point, he said that he would quit music if he didn't win the case. "If that happens, I'm done, I'm stopping," Sheeran said in court, per NME. "I find it to be really insulting. I work really hard to be where I'm at."
Now with two wins on his side, his career can stand firm. "I feel like the truth was heard and the truth was believed," the singer told People after the verdict was announced on May 4. "It's nice that we can both move on with our lives now — it's sad that it had to come to this."
Sheeran has not released a statement regarding his second lawsuit win.