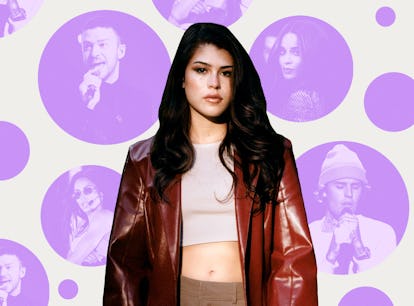 On Her New EP Pieces, Dylan Conrique Is Fully Herself
The artist talks vulnerability, new music, and the musicians that shaped her.
Elite Daily; Cara Friedman; Getty Images
In Elite Daily's series Early Influences, musicians reflect on the songs and albums that left a lasting impression on them in their formative teen years. Here, singer-songwriter Dylan Conrique opens up about her new EP, her viral hit "Birthday Cake," the je ne sais quoi of Caesar salad, and how Justin Bieber, Ciara, and Justin Timberlake inspired her.
When Dylan Conrique released her breakout single "Birthday Cake" in early 2022, she wasn't expecting the response it garnered. The track, which was written for a childhood friend who at age 12 lost her mother to cervical cancer, includes the poignant chorus: "But I think she'd / Want you to live like the world's on fire / Want you to love like hearts don't break / Never look down when you walk the wire / Like she made it to 48, still made your birthday cake."
"When I showed my mom, [she] was crying and I was like… 'Wait, what? What's wrong? This is supposed to be a happy song.' And then [my mom] was like, 'No, it's sad,'" Conrique laughs. "I didn't realize how it was going to impact people."
Impact people it did. Since its release, the song has been streamed more than 170 million times and 19-year-old Conrique has been dubbed People's Emerging Artist of 2022. The California native has also completed two live tours, which has forced her to overcome stage jitters and nail down her pre-performance rituals. "I cannot eat anything but a Caesar salad before I go on," says Conrique. "It's kind of strange."
Next up for the budding star is the release of her second EP, Pieces, which is out today. "It clicked for me," Conrique says. "These songs are truly the closest I've ever gotten to my sound." Instead of solely mining her own experiences, Conrique branched out, as can be seen in the titular track, a mournful breakup song inspired by a couple Conrique discovered on social media — and whose split she followed from a discretely parasocial distance. The song may not be autobiographical, but Conrique still identifies with its sentiment. "I have definitely been in that position," she says. "[Where] you're like, 'I gave my whole heart to you and you just completely came in and shattered it and you just left me here with all these pieces that I have to pick up now.'"
Conrique's increased vulnerability and openness to new forms of inspiration could be attributed to the fact that she's approaching the end of her teendom. Or maybe they're coming to the fore because she has been "living life on the edge" lately and letting herself delve deeper, emotionally, than she has before. "I'm finally just opening up," says Conrique. "And this [EP] is fully me in a bunch of pieces."
Below, Conrique dishes on her status as a "Belieber," Ciara's Michael Jacksonesque dance moves, and the Justin Timberlake performance that she equates with heaven.
Justin Bieber
Conrique has self-identified as a "Belieber" since the second grade, when she threw a Bieber-themed birthday party complete with balloons and a cake decorated with the Never Say Never album art. Her flame for the teen pop star wasn't even dimmed by the fact that her friends preferred One Direction to The Biebster. Sure, she thought it was surprising — but their questionable taste didn't affect what she knew to be true in her heart. "I just loved watching him growing up," says Conrique.
Now, she admires the Prince of Pop for another reason: "His music has evolved and changed, and, no matter what, his songs never get old. His older songs will never go out of style. I will always listen to those like they just came out." This is the kind of longevity that Conrique aspires to in her own career. "I would love to make a song that never is outdated," she says. "I would love to do that."
Ciara
As a trained dancer, Conrique has a heightened respect for artists who can deliver a mesmerizing physical performance while onstage. "I have a friend who's also in the dance industry," says Conrique, "and we will sit there, watch[ing] YouTube videos of World of Dance competition teams performing, and our reactions compared to someone who hasn't danced are completely different." That feeling of awe is the same sensation she experiences while watching Ciara "hitting every single beat" while singing live. "That is crazy to me," says Conrique of The Princess' prowess.
Conrique's most prominent memory of Ciara is viewing her iconic performance of "Thinkin About You" at the 2019 Billboard Music Awards. In the video, Ciara struts, twerks, and bounces in a black top hat, shiny gloves, and an oversized pinstripe suit, the jacket open to reveal a matching bustier. "The way she moves onstage is very Michael Jackson vibe," says Conrique. "I love that a woman's doing that and she just puts on a great show. It's literally just her onstage and she's incredible."
Justin Timberlake
Growing up, Conrique wasn't allowed to listen to PG-13 songs unless it was during rehearsal for her hip-hop dance group. That was how she was introduced to the Black Eyed Peas, Pitbull, and Justin Timberlake. "When I learned how to freestyle, Justin Timberlake … was a big factor in that," says Conrique.
She later happened upon a bootlegged phone recording of Timberlake's 2018 performance of "Mirrors" at Madison Square Gardens and was floored. "The breakdown of 'Mirrors' completely just marked me forever. I was like, 'Wow,'" remembers Conrique. "That was heaven. … That song was just so good." In recordings of the performance, JT's easy charisma is apparent as he high-fives the sold-out crowd, intermittently singing and encouraging them to croon along. "I think he's a great performer," says Conrique. "It doesn't really matter if you know his songs; he's still gonna give you a great feeling. And just to vibe out with people who also love music is great, too."
While Conrique favors arresting visuals when it comes to live performances, her general music taste extends far and wide: "You can learn so much from every single genre," says Conrique, adding that she listens to metal with her boyfriend and country with her dad. "I also love a great heartfelt song from Rascal Flats that [has] absolutely no dancing to it because I love listening to their music and … I grew up with them," says Conrique. "So I think I find myself leaning to live performances with dancing, but also I love to get a little sad at the same time."