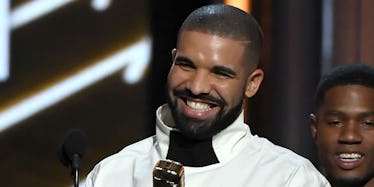 Drake's Billboard Music Awards Performance Was Fire, Literally -- VIDEO
Getty Images
Drake is one of those performers who doesn't need a flashy, choreographed show to give the fans what they want.
When he was at Madison Square Garden last summer on his Summer Sixteen tour, the flashiest part of his performance were the glowy light balls that pushed back and forth from the ceiling.
But that's not what we turn to Drake for.
We love him for his perfectly placed emo yet poetic lyrics and club banger anthems, that literally take you and your friends from zero to 100 — real quick.
His latest album, More Life, delivers the same quintessential Drake vibes. "Fake Love" is already the song that comes on at midnight that everyone screams in unison, and there's no better storytelling of "the come up" than that found in "Glow," featuring Kanye West.
Drake performed "Gyalchester" in the middle of the Bellagio Fountain in Las Vegas, complete with firework and light show. He brought his signature dad moves, as he jumped around in the fountain in a white jumpsuit.
Drake was nominated for 26 awards at Billboard this year, including Top Streaming Artist, Top Male Artist, and Artist of the Year.
Before the awards show even started, host Vanessa Hudgens already announced Drake was the winner of 10 awards. Since then, he's up to 12 awards, including Best Billboard 200 Album.
Adele previously held the record for most BBM awards won in a single night with 12, but it seems Canada is about to reclaim the title from Britain.
Drake's performance was great, but who could forget the chemistry Drake and ex flame Rihanna brought to the Brit Awards last year?
Rihanna was noticeably missing from the Billboard Awards, despite being nominated for 13 awards herself, including Artist of the Year and Top Streaming Artist, alongside Drake.
But Drake didn't seem to miss her too much. He shouted out to host Vanessa Hudgens about how incredible she looked, while making Nicki Minaj jealous in the process.
TBH, we all know once they stop playing games and get it together, Drake and Nicki will eventually end up together. They should truly just stop fighting it and make fans' dreams come true.