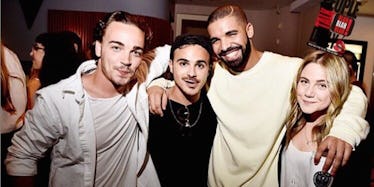 OMFG: Drake And His Former 'Degrassi' Costars Just Had The Best Reunion (Photos)
I like to imagine the attention got to be a little overwhelming throughout Drake's feud with Meek Mill.
Maybe Drake needed some time for himself but wasn't sure where to find it.
Maybe he lay awake at night, staring at the ceiling, his mind buzzing as he hoped for some peace and clarity.
Maybe there, in the dark, a faint melody presented itself from the back of his mind.
Whatever it takes…
Maybe Drake slowed his breathing and trained himself to focus.
I know I can make it through.
Maybe the rapper sat up and began to sing along.
If I hold out…
Maybe he began to clap to the beat.
I know I can make it through.
Maybe he erupted loudly into a triumphant refrain.
Be the best, the best that I can be. Hear what I say to you. Whatever it takes (I can see i-i-it), I know, I know, I know I can make it through!
Maybe Drake jumped off his bed and called the only people he knew would understand.
I cannot say for sure whether or not any of this occurred, but it may very well have been what led to the August 5 reunion of Drake and his former "Degrassi: The Next Generation" costars at the Toronto premiere of "We Are Disorderly," a new web series.
Actress Lauren Collins, who played sassy teen Paige Michalchuk on the high school drama, posted a photo on Instagram of herself with the "Back to Back" rapper and fellow alums Daniel Clark and Adam Ruggiero.
Some old friends got together last night at the #wearedisorderly premiere.
Old friends is right. Drake played Jimmy Brooks from 2001 to 2009 and became a fan favorite for his rap skills and champion spirit in the face of tragedy.
While it's unlikely the gathering led to any talks of bringing the cast back together for a televised reunion, "Degrassi" fans can dream.
Citations: Drake Reunited With His Former Degrassi Costars And It's Everything: Photos (US Weekly)