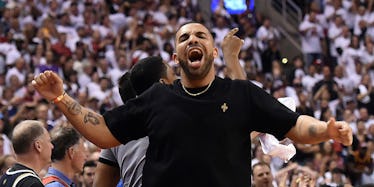 Drake Has A New Rap Beef, And It Could Be Funnier Than Meek Mill
USA TODAY Sports
For the second consecutive summer, Drake is involved in a rap beef with another artist, and it has the potential to be better than his last one.
On Saturday, Drizzy released the track "No Shopping" along with French Montana, a song that featured lines that seem like pretty clear jabs at a new rival:
I'm not a one hit wonder, they know all my stuff. You let me turn into the nigga that you almost was.
Said rival would be Joe Budden, who for weeks has been going out of his way to try and bait Drake into a tit-for-tat beef. Budden not only publicly criticized Drake's latest album, he also released two diss tracks in addition to calling out Drizzy on Twitter.
For a while, it looked like this would be a one-sided affair.
But, the release of Drake's new track makes this official: We have a rap beef on our hands.
And this one has the elements of a feud that could be better than last summer's hilarious Drake-Meek Mill beef. Why? Because, unlike Meek, Joe Budden is actually prepared.
One, Budden actually knows how to clown a rapper on social media, which was made evident by the way he responded to "No Shopping" on Saturday.
And two, Budden has diss tracks in the holster ready to go when necessary, which was also clear yesterday.
It's also worth mentioning Drake started off slow last year in coming at Meek, with the underwhelming track "Charged Up," before releasing the finisher "Back to Back," which brought out the best of memes. So, there's reason to hope for a follow-up to "No Shopping."
If Drake and Joe Budden take this to the next level, it could get even funnier than what we all saw last summer, and funny is good for everyone.
Citations: Drake's Jab Toward Joe Budden on "No Shopping" Has Twitter Going Nuts (Complex)