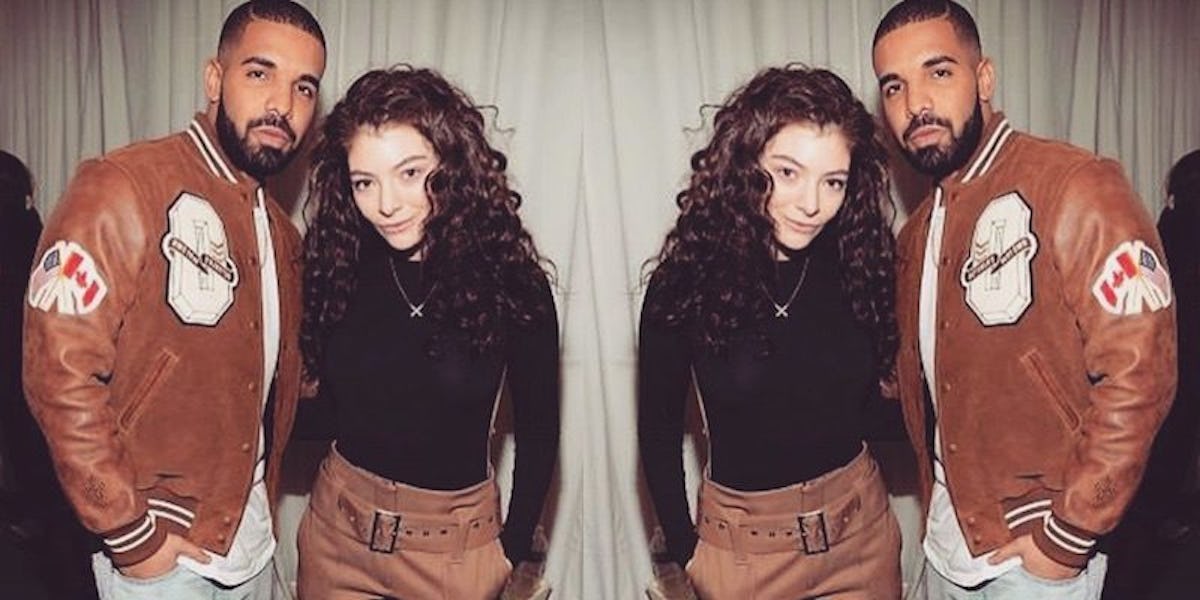 Drake Called Lorde 'Wifey' And Now Fans Are Begging Them To Collaborate
First, he referred to Anna Wintour as his "bae." Now, he called Lorde his "wifey." Either Drake's angling to get rid of rumored girlfriend Serena Williams, or he's trying to tell us something.
Yesterday, the Internet was abuzz after Williams sassily commented on one of Drake's Instagram pics with two talk-to-the-hand emoji. The general assumption was Williams was pissed at her man for calling another woman — in this case, Vogue Editor-in-Chief Anna Wintour — his "bae."
Instead of launching Operation Damage Control (as any sane man in his situation would do), Drake decided to add fuel to the fire by doing the same damn thing all over again, subbing Lorde for Anna Wintour.
The Canadian rapper posted a picture of himself and Lorde to his Instagram with the caption "Wifey (Low Key)," followed by three engagement ring emoji.
Lorde responded via Twitter with a series of emoji, including one lovey-dovey, heart-eyed face.
Assuming he wasn't intentionally trying to antagonize Williams, the only plausible explanation for Drake's Insta-love with Lorde is a collaboration by the pair is underway.
That is, at least, what the fine folks of Twitter determined. For Drake's sake, I hope they're right.
Take a look below.
So first, Drake drops this bomb.
Then, Lorde reciprocated, and people lost their minds.
champagne papi got me like pic.twitter.com/4V96z3Jv5h — Lorde (@lordemusic) September 16, 2015
Considering the fact that both are in relationships...
I didn't know I needed Drake and Lorde to collab until now — ️ (@wandeerland) September 17, 2015
...a collab is the only explanation for their sudden interests in one another.
I need the Drake Lorde collab so bad I've only dreamt of that happening — Countess Elizabeth (@gilliesgaga) September 16, 2015
Lorde, after all, was always a huge Drake fan...
'hotline bling' is a really creative clever way of saying something really simple — Lorde (@lordemusic) August 9, 2015
...and Drake's lyrics plus her vocals would make musical magic.
If there's a Drake x Lorde collab coming I will shit a brick — Brewer (@_Dustin_Brewer_) September 16, 2015
The world is so ready for this.
Lorde and drake. Just. Imagine a collab. Fml bye — Anastasia (@payneful) September 16, 2015
Citations: Why Did Drake Call Lorde 'Wifey'? Whatever The Reason, Fans Are Losing It (Bustle)