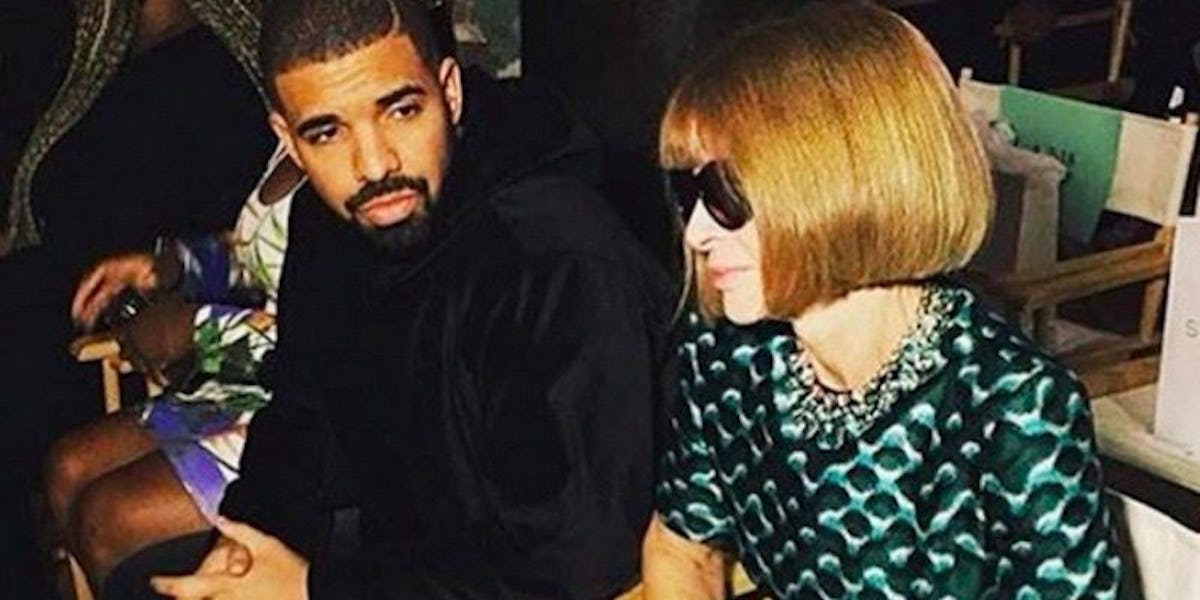 Serena Williams Apparently Didn't Like Drake Calling Anna Wintour 'Bae'
Here's an awkward reminder to always think before you type, courtesy of Serena Williams.
Yesterday, the tennis star's rumored boyfriend, Drake, was photographed sitting front row at Williams' second New York Fashion Week show beside Vogue editor-in-chief (and Williams' fashion mentor) Anna Wintour.
All was going well until Drake posted the snap to his Instagram account, jokingly captioning it "me and bae."
Even though it's obvious he was being sarcastic — Wintour looked none too thrilled to be seated beside the former "Degrassi" star — it seems Williams didn't find the joke very funny.
The 33-year-old commented on Drake's pic, cryptically posting two "talk to the hand" emoji (the non-verbal way of saying "f*ck you").
By the time she deleted the comment, the damage had already been done: A screenshot of the message made its way to social media, where it will exist until the end of time (or Twitter).
Of course, this could all just be a big misunderstanding; perhaps the emoji refer to an inside joke between Serena and her boo. Or maybe, she was alluding to Wintour's notorious standoffish nature. We may never know the true meaning.
Only one thing is for sure: If Williams was trying to keep her relationship with Drake on the DL, she failed spectacularly.
Citations: Serena Williams Didnt Appreciate Drake Referring to Anna Wintour As Bae (Yahoo! News)