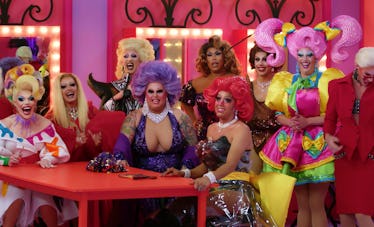 Drag Race Down Under Crowned Its First Winner And She Slayed The Finale
World of Wonder
RuPaul has really been spoiling Drag Race fans lately. The competition series that began with a blurry filter and a dream back in 2009 is now a global phenomenon over a decade later. In addition to the tentpole U.S. series, Drag Race has launched several international spinoff shows so fans can always get their fix. Season 13's big finale brought an end to the show's longest season yet, but fans didn't have to go a week without new Drag Race. Now, the fandom is turning its eyes to Australia and New Zealand, as they tune in to see who goes home on RuPaul's Drag Race Down Under Season 1 each week.
Drag Race Down Under is the latest international edition of the series, coming after two seasons of Drag Race Thailand, two seasons of Drag Race UK, a season of Canada's Drag Race, and a season of Drag Race Holland. Helmed by head judge RuPaul, her right-hand woman Michelle Visage, and Australian comedian Rhys Nicholson, the competition will crown a drag superstar from a crop of queens from Australia and New Zealand. The competitors in the debut season of Drag Race Down Under are: Anita Wigl'it, Art Simone, Coco Jumbo, Elektra Shock, Etcetera Etcetera, Jojo Zaho, Karen from Finance, Kita Mean, Maxi Shield, and Scarlet Adams.
Here's all the tea on the shadiest drama and most shocking moments from the show.
Episode 1: "G'day, G'day, G'day" (May 1)
Challenge Winner: Karen from Finance
Eliminated: Jojo Zaho
It wouldn't be a Drag Race premiere without a heaping helping of drama, and Drag Race Down Under definitely delivered. Things got pretty tense after Elektra Shock realized her boss, Kita Mean, would be competing against her... and the awkwardness only grew with Kita's business partner Anita Wigl'it walked in. Since all the New Zealand queens have such a complicated history together, it already looks like they'll be bringing the drama this season.
After their entrances, RuPaul introduced the mini-challenge. The queens had to be as ridiculous as possible in an audition for a sci-fi movie, with director Taika Waititi watching via video-chat. Despite being overlooked by her competitors, Elektra took the win.
But the real challenge came shortly afterwards. The queens had to serve two looks on the runway: one nude illusion look, and one look that represents their hometown. The first big win went to one of the queens with a major reputation coming in: Karen from Finance. Thanks to a memorable shoutout from Drag Race faves Trixie Mattel and Katya on an episode of their web show "UNHhhh," Karen is already a well-known name among fans, and now she's a definite frontrunner in the competition as well.
But sadly, one queen had to go home, and after Elektra slayed her lip-sync performance to "Tragedy" by the Bee Gees, Ru told Jojo Zaho to sashay away. It was a particularly disappointing elimination since Jojo had just served a powerful look on the runway about aboriginal land in Australia, but although the message was strong, the small details were a bit messy.
Although she was the first queen to sashay away, Jojo definitely made an impact on Drag Race Down Under, departing with a message encouraging indigenous drag queens to fully celebrate their culture.
Episode 2: "Snatch Game" (May 8)
Challenge Winner: Anita Wigl'it
Eliminated: Art Simone
As every Drag Race fan knows, Snatch Game is one of the most important challenges every season. Usually, the celebrity impersonation game comes midway through the competition, so it was a shock when Ru announced the challenge in Episode 2. And unfortunately, the Down Under queens didn't make a great impression.
Sadly, most of the queens bombed on Snatch Game: Art Simone's crass take on Bindi Irwin couldn't land many jokes, Scarlet Adams' Jennifer Coolidge was just recycled movie quotes, and Coco Jumbo's Lizzo was a perfect look without any substance. Probably the most egregious fail, though, was Karen from Finance's Dolly Parton impression. As Karen pointed out, it's a surprise nobody has chosen Dolly for Snatch Game before (Trixie Mattel impersonated Dolly in All Stars 3 for a lip-sync challenge, but not Snatch Game) — but her one-note impression of the country music legend is proof of why choosing an LGBTQ+ icon can seriously backfire.
The only real standout in Snatch Game was Anita Wigl'it, who didn't hold back from skewering the royal family with her quippy Queen Elizabeth II character.
On the runway, it was no surprise when Ru declared Anita the winner, but it was a bit jarring when Ru voiced her disappointment in the Snatch Game. "It was a very interesting Snatch Game. Let's put it that way," Ru said, before placing six queens in the bottom for the week. Only Etcetera Etcetera and Kita Mean were safe with Anita, even though it kind of felt like Kita could have been in the bottom as well for her fumbled Dr. Seuss.
The real shocker came at the end of the episode, though, when Ru eliminated Art Simone after her lip sync against Coco Jumbo. The whole cast was clearly surprised by Art's early elimination, as was pretty much every viewer, considering she is one of the most well-known queens on the season with a hugely popular Instagram presence and her own World of Wonder-produced series.
But before she left, Art gave fans what is already the first major meme-able moment from Down Under. When a producer tried to reassure the emotional queen after her elimination by reminding her that at least she made it on Drag Race, Art seethed back, "That means nothing."
Art may have left earlier than fans expected, but she definitely left her mark on the Drag Race franchise.
Episode 3: "Queens Down Under" (May 15)
Challenge Winner: Scarlet Adams
Eliminated: Coco Jumbo
Every season of Drag Race delivers a new earworm-y song filled with quippy verses that can oftentimes become a huge highlight. The Down Under song, with the uninspired title "Queens Down Under," may not be the breakout hit of "UK Hun?," but the new girl group track still holds its own as a ditty you won't be able to stop humming for weeks on end.
While most of the queens excelled as pop stars, both Coco Jumbo and Maxi Shield clearly struggled to deliver listenable verses. The most fun bit of drama came when the queens returned to the Werk Room, though, and Etcetera Etcetera found a mysterious note on Coco's station. It ominously read "Watch out," and when nobody owned up to writing it, the queens descended into conspiracy theories. Etcetera tossed out the idea that Coco could've written it herself to garner sympathy, and Kita Mean jokingly admitted to writing it before admitting she didn't. In the end, the most likely solution is probably the most obvious one: Art Simone left the note for Coco after her elimination.
As it turned out, the note was a bit of foreshadowing, as Coco wound up in the bottom two for an unimpressive verse and a lackluster "bogan prom" runway. Surprisingly, she wound up in the bottom with Elektra Shock, who honestly seemed like she was going to be in the top or possibly even win this week. Elektra was easily the breakout dancer in the challenge, turning out way more stunts and tricks than anyone else, but the judges saw that as a bad thing, claiming she stole attention as was "too Beyoncé." Apparently, you shouldn't try to be Beyoncé in a girl group challenge? Hmm, OK.
In the lip sync, Elektra laid her claim on the lip sync assassin title for the season by pulling out even more splits, high kicks, and dips than before. This time, the Beyoncé-ness paid off, and Coco was told to sashay away. Coco came into the competition with one of the fiercest mugs of anyone in the cast, so it's a shame to see her go home so early, but as she jokingly said in her exit interview, she "still beat Art Simone."
Episode 4: "Rucycled" (May 22)
Challenge Winner: Scarlet Adams
Eliminated: Anita Wigl'it
Um, so maybe Coco spoke too soon about beating Art Simone. While introducing Drag Race's staple trash-to-treasure design challenge at the start of Episode 4, Ru surprised the queens by suddenly re-adding Art to the competition. While bringing back an eliminated queen mid-competition has a long history in Drag Race, dating back to Season 3's Carmen Carrera, it rarely happens so early in a season.
Of course, everyone was shocked by the sudden return, but the decision didn't sit well with some fans... nor one of the eliminated queens. The choice to bring Art back struck some as blatant favoritism, since she is already a popular queen but decidedly failed at Snatch Game. It also left a bad taste in fans' mouths given the optics: Art was chosen for a comeback over the only two queens of color this season, who now make up the first two eliminated queens. Given this cast's previous racial controversies, it was disappointing that neither Coco Jumbo nor Jojo Zaho were at least given a chance to compete for reentry into the competition against Art.
After Art's return aired, Coco made her feelings known, sarcastically tweeting, "Give the white girl another go she deserves it!"
Although Art's return may have been controversial, she proved she was kicked off too soon by nailing the design challenge and earning a top placement. Sadly, the same couldn't be said for Karen from Finance and Anita Wigl'it, who ended up in the bottom two. TBH, though, Anita's charred book pages and VHS tape gown didn't really look as bad as the judges said, but maybe I just can't see past Anita's infectious personality.
In the end, Anita's campy tricks fell flat in a Dannii Minogue lip sync, which Karen gave a much more fitting sleek, pop-star treatment, so the aggressively positive New Zealand queen got sent packing. Smartly, Anita used her exit line to ask about All Stars casting, which definitely feels like something that is in her future given what a fan favorite she has become this season.
Episode 5: "Yeast Spread" (May 29)
Challenge Winner: Elektra Shock
Eliminated: Etcetera Etcetera
The mood in the Werk Room quickly became much more serious following Anita's elimination, but the remaining queens still managed to have a lot of fun with the reading challenge. Ru declared Art Simone the winner, even though it definitely seemed like Kita Mean got more laughs. But Kita got her revenge in the infomercial main challenge by winning one of the top spots of the week alongside her fellow Kiwi, Elektra Shock, who claimed her first win in the competition.
The real meat of the episode, though, was addressing Scarlet Adams' past racist performances. When the Down Under cast was announced, photos and reports of Scarlet performing in blackface and in appropriative garb resurfaced online. During a Werk Room discussion about regrets, Scarlet brought up the fact that she had performed in blackface to her fellow queens. "I'm disgusted at myself that I did those things," she said. Clearly disturbed to learn this, Etcetera Etcetera challenged Scarlet to do put her words to action: "I think that going forward, there should be a lot of steps of reparation and not just saying you're sorry, but doing things to show that you're sorry."
The issue was also brought up on the runway during judging, as RuPaul stated she had just learned of the blackface photos. Much to the surprise of some fans, Ru did not disqualify Scarlet from the competition. "I'm sure there are people that would want me to cancel you right here, right now," Ru said. "But I'd rather this be a lesson in humility and accountability. I pray that all of us can learn and grow from our mistakes."
Scarlet was then judged safe for the week, with the queen who most held her accountable, Etcetera, being sent home. Shortly after the episode aired, Scarlet posted a longer apology video on Instagram. Given Ru's statement, it sounds like this will be the one and only time Scarlet's past will be addressed this season. Fans will just have to see what happens if Scarlet winds up making it to the end with all this controversy surrounding her.
Episode 6: "Family Resemblance" (June 5)
Challenge Winner: Kita Mean
Eliminated: Maxi Shield
The makeover challenge has had a... rocky history in Drag Race history. Ru constantly switches up the group of people the queens have to drag up, which has led to some questionable results in the past. But for the first season of Down Under, the makeover challenge may just be the standout episode. Immediately after the New Zealand Falcons RFC rugby players entered, the Werk Room was filled with jokes and joy.
All of the queens got along with their new drag daughters incredibly well, making the episode a fun-filled breath of fresh air in comparison to the much more tense makeover challenges in season past. Even though the final looks weren't all incredible, it was the playful Werk Room moments that really made this episode shine. In the end, Kita Mean managed to score her first win in the competition after being safe every other week, and Maxi Shield found herself in the bottom with Scarlet Adams.
Another reason this episode stood out was the lip sync song. Down Under finally gave us the Kylie Minogue lip sync fans had been waiting for, as Maxi and Scarlet faced off to "Better the Devil You Know." It's a bit strange the show didn't use a Kylie back when she and her sister Dannii video-chatted with the queens in Episode 2, but at least it finally happened. Sadly, fan-favorite Maxi couldn't match Scarlet's energy in the lip sync and was sent packing, leaving us with a Top 5 of Kita, Scarlet, Art, Karen, and Elektra.
Episode 7: "Talent Extravaganza" (June 12)
Challenge Winner: Scarlet Adams
Eliminated: Elektra Shock
Scarlet and Elektra have been butting heads throughout the competition, and ahead of the season finale, their feud took center stage. Immediately after Scarlet's first lip sync, Elektra took the opportunity to clown her nemesis for doing the splits, which Scarlet had mocked her for a few weeks earlier. When Ru revealed a talent show challenge, Elektra and Scarlet's feud finally had a real effect on the competition. As last week's winner, Elektra's buddy Kita got to assign the talent show lineup, and after Scarlet was very vocal about wanting the final slot, Elektra took it from her by sneaking in a word with Kita.
Unfortunately for Elektra, the performance order didn't end up helping her out. The judges were underwhelmed by her modern dance, and even more disappointed that she chose to wear a notably unkempt wig for the performance. TBH, when it came to talent, Elektra clearly showed off more skills than Karen, who made one simple balloon animal, and Art, who just stuffed food in her mouth, but the judges just could not forgive that wig it seemed. To further rub salt in the wound, Ru hit the queens with the infamous "Who should go home and why?" question, which resulted in everyone saying Elektra. Then, her rival Scarlet won the challenge and she was placed in the bottom with her bestie Kita. It really was not Elektra's week.
Even though she's proven her formidable strength as a lip syncer, a third trip to the Bottom 2 almost always spells doom for a queen, and sure enough, Elektra was sent packing after lip syncing the "Untouched" by The Veronicas. With Elektra gone, Down Under has its first ever Top 4, and with how things have been going this season, it's truly anyone's guess if the crown will go to Karen, Art, Kita, or Scarlet.
Episode 8: "You're a Winner, Baby" (June 19)
Season 1 Winner: Kita Mean
Runner-Ups: Art Simone, Karen From Finance, and Scarlet Adams
The time has finally come to crown the first ever Drag Race Down Under winner, but not before Ru and Michelle therapize all the remaining queens to squeeze out any last teary moments for the cameras. Aside from the lengthy, emotional sitdowns, the Top 4 are tasked with what has become the trademark finale challenge: write and record a verse in one of RuPaul's songs. In this case, the song was "You're a Winner, Baby," and it became immediately evident the queens were taking two polar opposite directions with their writing — Karen and Kita opted for inspirational, while Art and Scarlet chose to to keep it fierce.
All the verse turned out pretty well, with Kita's impressive singing and Art's lyrical prowess as the clear standouts, and the final runways were also all incredibly glamorous, but Kita's motorized angel wings may have put her a step above the others. The very last challenge was a solo lip sync to Olivia Newton-John's aerobic banger "Physical." As the camera flipped between each of the four performances, it was clear Kita was the standout thanks to a particularly risqué glove prop. She may not have had the best track record of the season, but Kita obviously won the finale, and Ru awarded her with the crown.
Among the fans, Kita was far-and-away the favorite to win, not only because of her infectious positive personality and strong drag talent, but also because the overall fandom had a soured a bit on the other three queens in the finale. Scarlet had the most wins, but her racial appropriation scandals made it difficult for many viewers to root for her. And although Art and Karen came into the competition as the two most popular queens internationally, both failed to live up to their legacies — Art never won a challenge and was even eliminated early on, while Karen coasted through the competition under the radar after her premiere win.
After eight weeks of Aussie and Kiwi chaos, Drag Race fans now have a new queen to celebrate. All hail Kita Mean, the first-ever Drag Race Down Under winner!
This article was originally published on