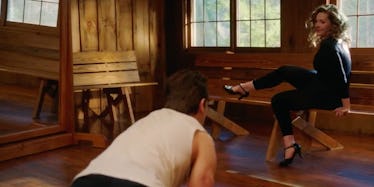 First 'Dirty Dancing' Promo Proves It's Going To Be The Best TV Musical Yet
ABC
We're just one month away from ABC's "Dirty Dancing" remake, and now we're finally getting our first look at the modernized version of the beloved classic... and we get to hear those iconic six words again: "Nobody puts Baby in the corner."
That's right, the very first TV promo for 2017's "Dirty Dancing" is finally here, and it's got the perfect mix of feel-good nostalgia and bright, vibrant spirit to give every viewer the time of their life.
Plus, we get to see Abigail Breslin in action as Baby Houseman, along with our first look at all the star-studded roles.
Most exciting of all: It really looks like "Dirty Dancing" is going to more than live up to the success of ABC's recent string of musical adaptations! People premiered the 30-second television spot, which you can watch below.
Though Abigail Breslin did give us a couple sneak peeks at herself as Baby in the upcoming remake, this promo is the first time we're seeing her in action — and it sure seems like she's going to do the original actress, Jennifer Grey, proud.
We also get a very steamy introduction to Colt Prattes, a pro dancer who's taking on his biggest acting job yet as Johnny Castle, the iconic role Patrick Swayze made famous when the original film came out 30 years ago.
Colt hits us with a freight train of sex appeal in the first promo, as he gives Baby a seductive wink and the pair make out in the dance studio.
And let's not forget all the other stars that are going to appear in the remake! The promo gives us our very first look at "Modern Family" star Sarah Hyland as Baby's big sis, Lisa.
Debra Messing gives us this incredible pursed-lips side-eye in character as Baby's mom, Marjorie Houseman.
And Katey Sagal takes in all the seductive sights as "bungalow bunny," Vivian Pressman.
If that superstar cast isn't enough to reel you in, then the gorgeous cinematography might get you.
In terms of ABC's recent string of musical remakes, it's clear "Dirty Dancing" is taking yet another step away from stripped-down theater towards high-quality visuals.
When ABC began airing these TV-special musicals with "The Sound of Music Live" in 2015, they basically just filmed a live, stage production. That has steadily changed leading up to more elaborately designed sets in "Hairspray Live!" and "Grease Live!," and now "Dirty Dancing" is doing away with the live aspect altogether and giving fans a pre-taped feature film.
"Dirty Dancing" will premiere on ABC in one month, on May 24.
Citations: 'Nobody Puts Baby in a Corner': Watch Dirty Dancing the TV Musical's First Promo — Starring Abigail Breslin! (People)