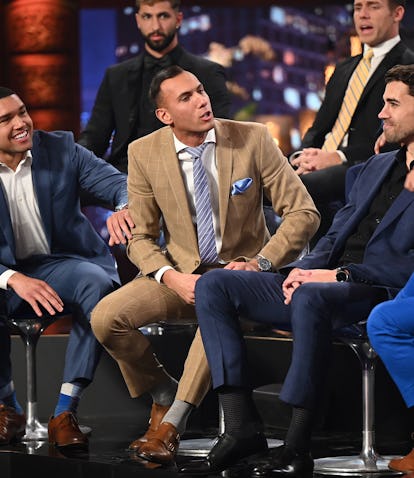 Wait, Did Peter Really Serve Will With A Lawsuit During The "Men Tell All"?
This came right after Will claimed Peter's sister slid into his DMs.
ABC/John Fleenor
Just when you thought you'd seen it all on The Bachelorette, the Dec. 6 episode really turned up the heat. To kick off an evening of dramatic recaps and grown men arguing, viewers were treated with what might possibly be the strangest throwdown of the franchise thus far: someone possibly getting served with legal papers over defamation. If you're wondering whether Peter Izzo actually sued Will Urena during The Bachelorette's Dec. 6 "Men Tell All Episode," you're in good company. As viewers everywhere try to figure out what really went down, here's what we know.
It was pretty obvious going into the special both men were ready to "clear the air." And by that, I mean argue in circles about the drama that went down during the season. In case you blocked out the whole ordeal, it all started during the Oct. 26 episode when Will called Peter a narcissist during a group date. During a group date the following week, the duo beat each other up pretty aggressively during a fighting match competition. It didn't help that Will won the date and was given a Very Special bomber jacket.
After Will won the jacket during the group date, Peter decided to throw it in the pool, because he didn't feel like his competitor deserved such an honor. Will then cried and fished his jacket out of the pool, which was one of the strangest clips of the season. Peter was then eliminated that episode, with Will getting sent home the following week.
The thing is, even though the guys were cut loose long before the "Men Tell All" special, it's pretty clear there were still lots of hard feelings there. During the special, Peter accused Will of creating fake reviews of his pizzeria (which Tayshia Adams and Kaitlyn Bristowe read aloud), while Will accused Peter's sister of sliding into his DMs. As if that wasn't enough, the whole incident was elevated when an angry-looking guy stormed onstage and told Will he'd been served and handed him a stack of papers. Peter said he was suing Will for "defamation of character" before punctuating the argument with what is possibly the cheesiest line of all time: "Rest in pizza."
But was this real legal action, or just a stunt for the special? According to Will, who responded to Elite Daily's request for comment via Instagram DM after the special aired, he "didn't even look at the papers" and there is "no lawsuit." (Elite Daily also reached out to Peter and reps from ABC for comment on the bizarre moment, but didn't hear back by time of publication.)
Fans probably assumed as much, considering the special ended with Peter throwing a literal pizza party for everyone onstage, Will saying the pizza tasted pretty good, and the two hugging it out and agreeing to put their drama behind them — apparently, with no future visit to a courtroom required.
Season 18 of The Bachelorette continues on Tuesday, Dec. 14, at 8 p.m. ET on ABC.
This article was originally published on