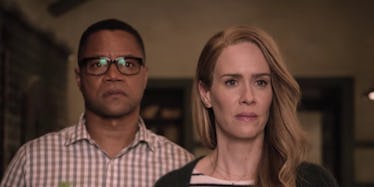 This Main 'AHS' Cast Member May Return For Season 7 & No It's Not Jessica Lange
FX
August is a bummer, but there is one upside: Every day we inch closer to the Season 7 premiere of American Horror Story and, with that in mind, it seems like every day we get new information about the upcoming chapter to keep us excited. First we learned the new installment will be based on the 2016 presidential election and we were hyped AF, then we found out the season will be called AHS: Cult and we were curious, and then we saw all the creepy clown and bee imagery and we were like "Nope, f*ck this sh*t, I'm out." While all of these announcements alone have been enough to keep AHS stans on their toes, it's the casting announcements that really make us freak out. That being said, the latest news that we *might* see Denis O'Hare in American Horror Story: Cult has gone and put us over the edge.
The news that O'Hare, a fan favorite of the series, might return for the new season came during Walker Stalker Con in Tulsa when the actor was asked whether or not he'll be in the cult-themed chapter. Of course, this being AHS we're talking about, his answer is very ambiguous and he doesn't really give us anything to work with. In other words, he neither confirms nor denies we'll see him in Cult.
If I had to guess, I'd say the chances of seeing the actor this season are pretty good, though. After all, he's been a pivotal part of every season except Asylum, and has earned himself two Emmy nominations for playing Larry Harvey (Murder House) and Stanley (Freak Show). I guess the only thing left to do now is think about what *potential* roles we could see O'Hare in during the upcoming season. He's always had some of the most nuanced characters (Liz Taylor, for example), so, if he is a part of the new cast, at least we know it'll be a juicy role.
Also, Jessica Lange, if you're reading this, I'm not getting any younger, please come back to AHS. Thanks.