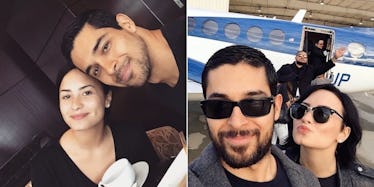 Demi Lovato And Wilmer Valderrama's Relationship Is The Closest Thing To Perfect
When it comes to celebrity couples, relationships tend to come and go pretty fast.
One day, your favorite stars are the power couple of the red carpet, and before you know it, their scandalous breakup is the biggest story on TMZ.
It can be hard to juggle a love life and the limelight, so it's pretty impressive when famous couples find a way to make their love stand the test of time (and the tabloids, of course.)
Recently Demi Lovato and Wilmer Valderrama popped up on our celebrity relationship radar.
What sets these two love birds apart from the rest of the young celeb couples out there?
Well, aside from looking insanely cute together, these guys have been together for five years, which basically makes their relationship ancient AF in Hollywood years.
In an interview, Lovato told U.S. Magazine,
With Wilmer and I and our relationship, he's extremely supportive in everything that I do. He makes me feel confident and beautiful. And I'm just really, really grateful for him.
Demi and Wilmer are obviously doing something right, and these two constantly prove their relationship might just be the closest thing to perfect in all of Tinseltown.
Demi and Wilmer give us all relationship goals.
These two have been together since 2010...
And they've been crazy about each other ever since.
It's not hard to see these two make one seriously cute couple.
These guys have no problem being the cheesy couple that rocks fuzzy, matching onesies.
And they always coordinate their #OOTDs.
Plus, these two might just be the most adorable Lucy and Ricky on the planet...
And Demi and Wilmer totally slay the couple selfie game on Instagram.
Seriously, just look at that perfectly executed "blue steel" pose.
They can always be themselves when they're together...
And just genuinely love spending time with each other, whether it's during a sleepy snuggle sesh...
Or going on epic prehistoric adventures.
These soulmates complete each other and they know their relationship is perfect AF.
Demi and Wilmer go everywhere together and never let show biz keep them apart.
They're always there to show support for one another, whether it's after a long day on set...
On tour, or backstage at a concert.
Plus, they're never afraid to flex their feelings on social media...
I never post personal pictures like this but fuck.. He is perfect. I miss my @WValderrama pic.twitter.com/THdm2YPHUb — Demi Lovato (@ddlovato) November 17, 2014
And let the world know they simply adore each other.
To the funniest, most inspiring, incredible man I know.. @WValderrama - thank you for he... http://t.co/jG06A5vYzX pic.twitter.com/fzFS8Fw8Nj — Demi Lovato (@ddlovato) January 31, 2014