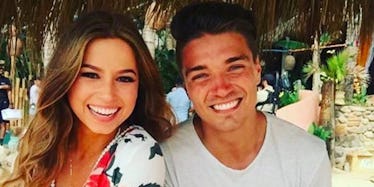 Dean Reveals If He Still Talks To Kristina After 'Bachelor In Paradise'
Instagram
This season of BiP has been chock full of drama, and at the center of a lot it is Mr. Dean Unglert. The dreamy fan-favorite from Rachel's Bachelorette season took the show by surprising storm, entangling himself in a messy love triangle involving D. Lo and Kristina. With everything that went down in Mexico, do Dean and Kristina talk after Bachelor In Paradise? Dean opened up to Us Weekly on Wednesday about their status and... actually, it sounds like it's all good.
Dean told the magazine that he, Kristina, and Danielle were all on Ellen on Tuesday. "So we're all on good terms. There's no more bad blood between the three of us," he explained. Great. Now we have Taylor Swift in our head again.
It's nice to hear that things are OK with everyone, considering it did not end well for Kristina. Even though she and Dean were cozy throughout the season, he expressed he wanted to explore things with Danielle L. and Kristina wasn't about to sit around and be played any further. She dramatically said her goodbyes during this week's rose ceremony, declaring that she wanted to be "valued and respected" in her next relationship. She then exited Mexico for good without giving out a rose. Burn. And the resounding cheers for Kristina ensued across Bachelor Nation. You. Do. You.
Support poured in for Kristina following her brokenhearted departure, and Dean even showed the world he still had kind words for the former flame when he posted a throwback photo of them two days ago. The caption?  "You were out of my league."
While the pic says a lot about his feelings towards her, Dean's Wednesday conversation with Us Weekly shed some light on their future together:
Kristina's great. You know, her and I had to sit down and talk to each other and hopefully there's a time that we can figure it out and see what happens from there. But we're just for now casually talking and seeing if there's anything there.
There you have it. We don't know what's exactly in store for Kristina and Dean (or Danielle L, for that matter), but we're glad all three points of this triangle are getting along. And if Dean and Kristina don't rekindle their romance, can she be on the shortlist for The Bachelorette? Producers?