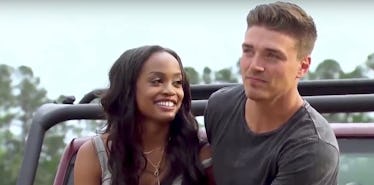 Will Dean Find Love On 'Bachelor In Paradise'? Fans Are Rooting For Him
ABC
Dean from The Bachelorette has been cast on the upcoming season of Bachelor In Paradise, leaving fans wondering and hoping he'll find love and get engaged after getting his heart broken by Rachel Lindsay.
Dean was a huge fan favorite this season, and he made it all the way to the hometown visits with Rachel. But the complicated thing here is Dean hadn't spoken to his father for two years when he took Rachel home to meet him.
Their relationship became estranged over time following the death of Dean's mother when he was 15, so it was a really emotional and kind of cruel thing for ABC to force him to do. But I digress.
I just hope after the emotional whirlwind The Bachelorette put him through that he finds a meaningful relationship out of Bachelor In Paradise, and not just one of those BIP relationships that start fast and end fast.
But that seems to be the only kind of relationships these shows produce.
Fans are rooting for Dean to find love and get engaged on the show.
What the fans didn't love was the forced reunion between Dean and his dad during the hometown visits episode.
Lots of people were vying for him to be the next Bachelor, but there are also a lot of people hoping the next Bachelor will be Eric Bigger.
But now that Bachelor In Paradise's newest cast member has been announced, people are shipping Dean with other contestants from the show.
Even before Dean was eliminated from the show, there were rumors floating around back in June that Dean was joining BIP and was dating contestant Kristina Schulman, who was previously on Nick Viall's season of The Bachelor.
The rumors first started when Schulman was live-tweeting during the episode of The Bachelorette where Rachel expressed her concerns about Dean's age (he's 26 and she's 31). Reacting to that, Schulman tweeted,
Age does not define maturity or life obstacles, much respect #theBachelorette
This made people believe she was defending Dean out of love and not just as a matter of opinion.
Earlier that same night, Schulman also liked a tweet from The Bachelorette account that featured a GIF of Dean looking hella cute.
Nothing has been confirmed, so we'll just have to wait and see what happens on the upcoming season of Bachelor In Paradise.