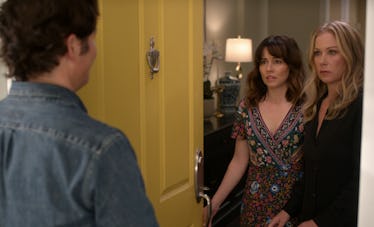 Jen & Judy Spiral Out In Dead To Me's Final Season Trailer
This murder cover-up has gotten totally out of control.
Netflix
It's almost time to catch back up with Jen and Judy. It's been a long two years since the second season of Dead to Me left viewers on a bloody cliffhanger, but now Netflix has finally confirmed when the third and final season will premiere, and it already looks like it'll be a total trip. Get ready for the whole twisted saga to come to an end very soon, because Dead to Me Season 3's release date is fast approaching.
Netflix picked up a third season of Dead to Me back in the summer of 2020, two months after Season 2 dropped on the streamer. But that good news also came with a grim detail: Season 3 will be the show's final run of episodes. Obviously, that made the wait for the new season even more fraught, which was amplified by the coronavirus pandemic delaying production for quite some time. But finally, Season 3 is just around the corner, and it promises to finally reveal what happened to Jen after Ben drunkenly crashed his car into her in the Season 2 finale.
So pour yourself a big glass of wine, and dive into all the details we know about Dead to Me Season 3.
Dead To Me Season 3 Release Date
Seasons 1 and 2 of Dead to Me only had a one-year break in between them, but Season 3 has taken notably longer to hit Netflix. The third and final season will hit Netflix on Nov. 17.
Dead To Me Season 3 Cast
Obviously, Christina Applegate and Linda Cardellini will be back as the complicated besties Jen Harding and Judy Hale, and of course, James Marsden will return as Ben Wood. The rest of the final season's cast will be rounded out by other notable players in Jen and Judy's complex murder cover-up.
Dead To Me Season 3 Trailer
Netflix released a first look at Season 3 during the network's Tudum event on Sept. 24. The clip revealed the aftermath of Jen and Judy's car crash, showing Jen bedridden but still alive at a hospital.
Another full trailer was released on Nov. 2, providing even more insight into the final season's chaotic conclusion. Most notably, the trailer shows Judy firing a gun, Ben reeling from the aftermath of the car crash, and Jen and Judy choosing outlaw names as they seemingly drive off on the run.
The final season will wrap up Jen and Judy's story when it premieres on Netflix on Nov. 17.
This article was originally published on