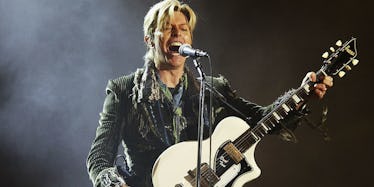 Kanye, JK Rowling And Other Celebs Pay Their Respects To David Bowie
Getty Images
The world lost an icon early this morning.
About 18 months after being diagnosed with cancer, the coolest man in the world passed away.
David Bowie left this planet surrounded by his family and the adoration of millions of fans across the globe. There are no real words to describe what his absence has made the globe feel today.
To say, "He will be missed," would be like saying, "You know what I fondly remember? Colors," if that abstract concept was to suddenly disappear from this world one day.
As is the new normal whenever something of this nature happens, humanity flocked to the Internet to share sentiments and pay E-tribute to the Starman.
Kanye West
Ricky Gervais
JK Rowling
The Weeknd
Eddie Izzard
Iggy Pop
Will Arnett
Josh Groban
Joe Manganiello
Madonna
Pharrell Williams
Paul F. Tompkins
Piers Morgan
Ruby Rose
Chris Hardwick
Louis Tomlinson
Joseph Gordon-Levitt
John Mulaney
Jack Antonoff
Kat Dennings
Kathy Griffin
Cher
Paul McCartney
"Let the children boogie."
Citations: David Bowie Hollywood Music Community Mourn Pop Genius Hero (Variety)