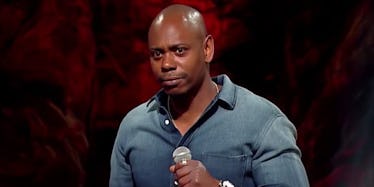 Dave Chappelle Drops Second Trailer For His Netflix Special And It's Too Funny
YouTube
On March 21, Dave Chappelle will make his triumphant return to comedy with a new Netflix special. I'm not too sure about you, but I can hardly contain my excitement.
It feels like it's been three separate lifetimes since fresh episodes of "Chappelle's Show" aired on Comedy Central. Now, we're just days away from the 43-year-old comedy legend's comeback.
Last week, Dave Chappelle dropped the very first trailer for his upcoming Netflix special. It's like he knew we couldn't wait or something and he's not wrong. Let's face it. We all need comical relief now more than ever!
The first trailer, which was shot in black and white, captured a thoughtful Chappelle as he sat down thinking about everyone from OJ Simpson to Martin Luther King Jr.
Honestly, the trailer was good enough to get us all pumped for the new series, but it left us wanting more. Obviously, that's what a trailer is supposed to do... The people still want more, though.
As always, Mr. Chappelle delivers. The funnyman dropped another trailer we probably don't deserve, and it's even more hilarious than the first one. That's probably because this is the "official trailer."
I repeat the official trailer for Dave Chappelle's Netflix stand-up comedy special is finally here!
The minute-long clip begins as Chappelle states the obvious,
I've been gone for a very long time... Surprise, it's me.
He then jumps into a handful of different conversations as he keeps it real about ISIS and table salt. I think it's safe to say the Dave Chappelle we all know and love is back.
Behold the official trailer for Dave Chappelle's two-part stand-up comedy special with Netflix.
In case you were wondering, it seems like Mr. Chappelle might be here to stay, too. According to a recent interview with CBC News, Dave Chappelle says there will likely be a third special due out before the end of 2017.
We don't deserve the laughs... Or do we?
Citations: Dave Chappelle Talks ISIS and O.J. Simpson in Trailer for New Netflix Special (Complex)