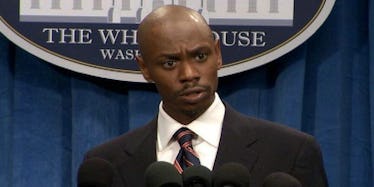 Dave Chappelle Drops Trailer For His First Comedy Special In 12 Years
YouTube
He's back, and he's ready to make you laugh your ass off.
Comedy legend Dave Chappelle is returning to your TV screen with a new comedy special on Netflix. This is the first time in 12 long years the 43-year-old star will release a comedy special.
I'm not sure how we've managed to live without Chappelle's wit and humor for over a decade, but we did. I suppose we should all just be happy he's back instead of focusing on where he's been!
The good news is the special will be premiering THIS MONTH. That means we don't have to wait any longer for much needed comical relief.
On Thursday, Netflix dropped the official trailer for the upcoming special. The trailer's description reads,
He's back. And with plenty on his mind. Dave Chappelle returns with two stand-up specials from his personal comedy vault on March 21, only on Netflix.
That's right. There is not one, but TWO Chappelle specials being released by Netflix. The first one will reportedly be an original special produced by Chappelle and director Stan Lathan.
The second half of the special will include "never-before-seen" footage from the comedian's "personal comedy vault." At this point, I don't care if it's been seen or not. Just hand over the goods!
Check out the new trailer for Dave Chappelle's upcoming comedy special on Netflix.
Yeah, I've already blocked out my schedule and coordinated my snack menu. It's going down...
But seriously, March 21, you need to hurry. I haven't laughed in 12 fucking years, and America is desperate for laughs during these trying times. Luckily for us, Dave never disappoints.
For now, let's just try really hard to be patient. Watching a few of the best "Chappelle's Show" sketches should do the trick.
Just 19 more unfunny, lame days to go. Please kill me.
Citations: Dave Chappelle is almost back! Netflix drops trailer, release date for comedy specials (Mashable)