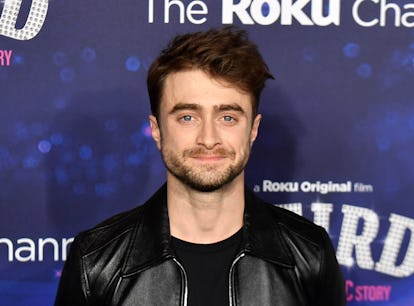 Daniel Radcliffe "Definitely" Isn't Interested In Being In The Harry Potter TV Series
ANGELA WEISS/AFP/Getty Images
Hogwarts may be opening its doors again soon, but Daniel Radcliffe isn't planning to pay his alma mater a visit. The Harry Potter star opened up about his feelings on the magical story being remade, after it was announced that Max is developing a streaming series based on the beloved fantasy novels. Hopeful Potterheads speculated that some of the main cast from the original movies might make a return, but Radcliffe put an end to any rumors that he'd appear in the Harry Potter TV show.
Reports about a Harry Potter series at HBO first surfaced at the start of 2021, but the project was kept hush-hush for two years until Warner Bros. finally confirmed a Max adaptation of the seven Harry Potter books is indeed in development earlier in 2023. It's not yet clear when the show will debut, or who will star in it, but since HBO and Max's CEO Casey Bloys confirmed the series will be a "faithful adaptation" of J.K. Rowling's novels, it sounds like a whole new cast will be reimagining the same epic saga that first captivated audiences when the film series was released from 2001 to 2011.
In Radcliffe's mind, this new adaptation should be its own thing, which is why he doesn't want to show up in it. He confirmed he's not looking for a cameo in the upcoming show during a July 3 interview with ComicBook.com.
"My understanding is that they're trying to very much start fresh and I'm sure whoever is making them will want to make their own mark on it and probably not want to have to figure out how to get old Harry to cameo in this somewhere," Radcliffe said. "So I'm definitely not seeking it out in any way. But I do wish them, obviously, all the luck in the world and I'm very excited to have that torch passed. But I don't think it needs me to physically pass it."
Radcliffe's sentiment is similar to what his costar Rupert Grint expressed months earlier when the Max adaptation was still just a rumor. "I think there'd be a feeling of passing the baton, letting someone else play Ron," Grint said of the idea of Harry Potter getting remade with a new cast in his January GQ profile.
So, it sounds like the same magical story will be told in a whole new way when Max's Harry Potter series does finally appear, and the original cast is just fine with stepping aside to let a new generation spellbind fans.