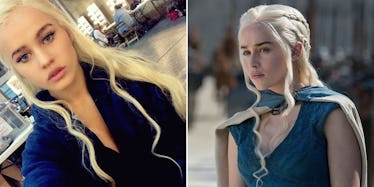 Khaleesi's Body Double From 'Game Of Thrones' Is Actually Super Hot (Photos)
Daenerys Targaryen, played by Emilia Clarke, is one of the most captivating characters on "Game of Thrones." She's also one of the most attractive characters on TV.
So, it shouldn't come as much of a surprise Clarke's body double on the show is also stunningly beautiful.
Her name is Rosie Mac, and she is 18 years old. When she's not on the set of "GoT," Mac works as a model.
After you see some photos of Mac, that shouldn't come as much of a surprise, either. Here are some photos of Rosie Mac, the best looking body double on television.
Yep, she's a total babe.
She's a dead ringer for Clarke.
On set ready to rumble pic.twitter.com/5w3mA5KEqK — RosieMac (@RoxyMac2) October 23, 2014
Mac looks a lot like the Mother of Dragons.
Here Mac is doing some modeling.
And here she is wearing some Calvin Klein underwear.
The producers of the show were so impressed by Mac's work, they're reportedly actually writing a role for her.
Here is Mac drinking with Daario Naharis.
And here she is with Tyrion's body double.
Back stage #GameOfThrones #FeelingAwsome pic.twitter.com/o3sqqN9X4A — RosieMac (@RoxyMac2) November 25, 2014
Here's Mac dressed in the queen's regalia.
Kneel before the true Khaleesi.
Citations: THINK DAENERYS TARGARYEN IS HOT (Playboy)