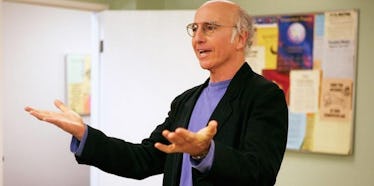 'Curb Your Enthusiasm' Cast Promises Season 9 Is "Pretty, Pretty Good" – EXCLUSIVE
HBO
"TV Larry is exactly the same, as am I," Larry David tells me at the New York City Curb Your Enthusiasm premiere. After a six-year hiatus, Curb Your Enthusiasm Season 9 makes its long-awaited return to HBO on Sunday, Oct. 1. What's different now? Fortunately, not much.
Along with Larry, Susie Essman, Jeff Garlin, Cheryl Hines, and J.B. Smoove are back for the upcoming ninth season. The cast walked the premiere's red carpet overwhelmed with un-curbed enthusiasm. In Susie's words: "It's back. It's just as good, if not better. People are going to love this season. Curb fans are going to go crazy." 
It's clear fans of the cult-classic comedy can expect to watch the same brutally honest curmudgeon version of Larry David go through life's daily frustrations. After speaking with Larry, Susie, J.B., director David Steinberg, and producer Jeff Schaffer, there is no doubt Curb Your Enthusiasm Season 9 will deliver every awkward, cringe-inducing Larry-ism fans have been missing.
Speaking on the process of picking back up after half a decade, Jeff Schaffer, who has been Larry's right-hand man and executive producer since the birth of the show, tells me,
The first thing we had to deal with was it's been five or six years, I think the last time we aired was 2011 and if you think about back then it was... just a completely different landscape. We wanted to make sure we dealt with what Larry had been doing for the last five years, so that was the first thing we had to think about coming up with the new season and once we sort of figured out what he's been up to we realized that's going to start a whole season arc of stuff, then we knew we were doing another season of the show. 
Once the idea of a ninth season became a reality, the Curb team had to figure out what each character had been up to and where their storylines would take them throughout Season 9. Schaffer goes on to say,
Fake Larry's been doing something different for the past five years, and he's been working on a project and he's very excited to show the world what it is, and in the season premiere he starts to let people know what it is and he does not get the reaction he was expecting at all.  Everyone else has grown a little and has been doing things, Larry is — you know those bacteria that are resistant to medicine? — Larry is resistant to personal growth. Jeff and Susie are still together, postcard of matrimonial bliss, but the one thing is that their daughter Sammy is all grown up now. She's like a young woman with a serious boyfriend and Jeff and Susie love him and then he meets Larry, and that happens. And Cheryl's back, everyone's back. Cheryl and Larry are still divorced, so you've got single Cheryl and single Larry wandering around the same neighborhood, so that causes complications, too. 
By picking up where they left off, it's clear every unabashed Curb theme will be hit with full force in the new season.
As director David Steinberg says,
It's a wonderful season, people will love it, they won't be surprised, they'll love it... It's all over the place in a wonderful way. 
Earlier this year, and the most recent time fans got their dose of Larry David, the comedian was praised for his portrayal of Senator Bernie Sanders on Saturday Night Live. He has never been one to shy away from sharing his political perspective, so because of that, I felt compelled to ask Steinberg how much of our real world seeps into the Curb-iverse in the new season. He tells me,
We don't like to be topical, because it moves too quickly. But we're not afraid of being topical, so you should feel as you watch any of the shows that it's relevant to everyone in some way, because Larry's not afraid of anybody. 
Curb Your Enthusiasm's legacy is partially due to the show's lack of a conventional script, which, in turn, makes each scene move at rapid speed. The non-traditional format of the show requires actors to improvise scenes based on storylines developed by Larry David and his team. There is no script; actors are never fed lines. This improvisation, in part, is responsible for blurring the line between the Curb characters and the actors.
Larry David's on and off-screen personas have been blurred since the creation of Seinfeld. It's no secret the character of George Costanza is based on Larry himself, which has given fans a perception of who Larry is as a person for nearly 30 years. Mix that together with the TV-version of Larry on Curb Your Enthusiasm, and it's obvious why fans expect to see Larry David blurting out cantankerous one-liners in person.
To get a better understanding of who Larry David really is, I asked him if real-life Larry is more like Curb Larry or Seinfeld's George Costanza. "Huh, good question," Larry responds with his iconic voice inflection, "TV Larry." His answer makes that blurred line even foggier.
Susie Essman, who also plays a version of herself to some degree, speaks to me about her relationship with her character Susie Greene and what it was like to pick back up again,
Oh, like nothing. I know her [Susie Greene] so well, she's so ingrained in me… six years didn't make any difference.  ...With Suzy, well I created her pretty much because it's not a regular script. So I just had this sense of who she was and just became her. So I don't really think it, I just become it. I put on those outfits and I just become her.
Susie Greene has the juxtaposing qualities of a warm, doting mother and the foul-mouthed aggression of a rabid truck driver. And it's those characteristics that make her a fan favorite.
Another character objectively adored by fans is J.B. Smoove's Leon Black, who joined the cast in the sixth season. J.B. recently wrote a book as his character called "The Book Of Leon" that will be available on Oct. 24. Leon is known for spouting bouts of wisdom to Larry that somehow are so ridiculous, they make perfect sense. I had the chance to ask J.B. what he believes is the best advice Leon ever gave Larry on the show:
The best advice Larry ever got from Leon was to get in that ass. When a man disrespects you and puts you in a weird position and you feel threatened you gotta get in that ass. Get in that ass is not a literal thing, it's not a physical thing, it's a verbal thing that allows a man to respect your space and respect who you are. You always get in that ass, and it's not just a man thing, it's an anybody thing. Anybody can get in that ass. You go to the DMV and they give you a hard damn time all you want to do is renew your license or registration, but that lady behind the counter is being an asshole, you know what I'm saying? You got to get in that ass. You let that lady know that you are here to get your damn license and you ain't going for the bullsh*t. See? You get in that ass. 
Like everything on Curb Your Enthusiasm, you just couldn't write a better answer than that.
Curb Your Enthusiasm returns to HBO on Sunday, Oct. 1 at 10 p.m. on HBO.