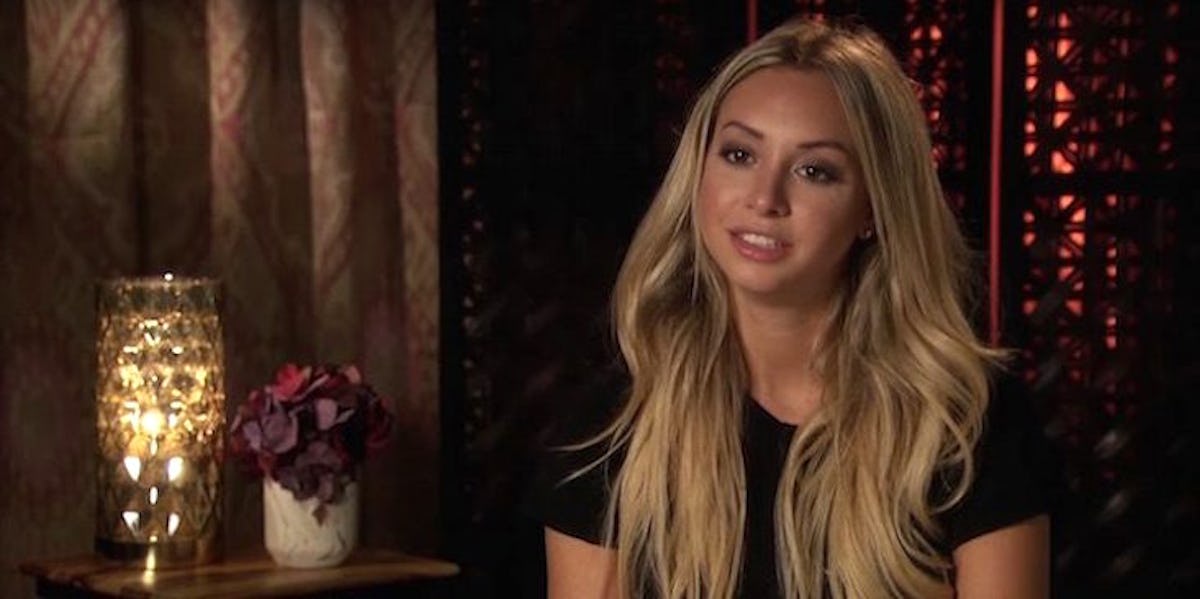 Corinne Reportedly Mixed Prescription Drugs And Alcohol On 'Bachelor In Paradise'
ABC
New information about what went down during that fateful first day of Bachelor in Paradise could help explain what exactly went on between contestants Corinne Olympios and DeMario Jackson.
A source has told Entertainment Tonight Corinne had blacked out from mixing alcohol with prescription medication on the set. Though never unconscious, the source reports Corinne would be unable to recollect what occurred while on the reported alcohol-and-drug cocktail.
Corinne's condition was exacerbated by the drinking and taking the prescribed medication.
Elite Daily reached out to Corinne for comment but has not heard back by the time of publication.
Prior reports have alleged Corinne had been drinking throughout the day (champagne, martinis, and tequila shots) without eating any food. Constant drinking has been a hallmark of that Bachelor in Paradise franchise since its inception, so that wasn't too shocking.
Of course, mixing alcohol with any prescription medication is dangerous. If the reports of Corinne mixing the two substances are true, then it's no wonder she suffered a blackout while filming the show.
The controversy in question occurred during the first day of filming when an unnamed producer expressed discomfort with filming a hookup scene between DeMario and Corinne. That led to the series suspending production while Warner Bros.' lawyers looked into allegations of misconduct after rumors spread that Corinne was unable to give consent in her state.
Corinne previously gave a statement to Entertainment Tonight, stating she had launched an investigation into the allegations in order to clear things up for her:
While I never filed complaints or accusations against anyone associated with Bachelor in Paradise, my team and I felt it was very important to be thorough in getting to the bottom of what had occurred. I felt victimized by the fact that others were judging me through conflicting and unsubstantiated reports, while I myself had no recollection of the events that transpired.
Warner Bros. eventually cleared the situation of any misconduct allegations and resumed production on the season. Both Corinne and DeMario are set to return to the show for the end-of-season reunion special.