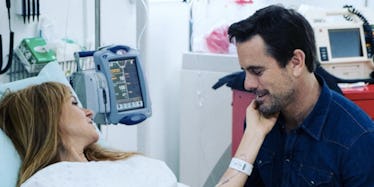 Connie Britton Posts Emotional Instagram After Insane 'Nashville' Episode
Instagram
Full discolure: Major "Nashville" spoilers ahead.
Nashies, it's with a heavy heart I share Connie Britton's Instagram post about our beloved Rayna Jaymes.
Leading up to the show's latest episode, "If Tomorrow Never Comes," we were met with slight hope — slight teasing from the Nashville CMT Instagram that featured Rayna alive in the hospital after her car accident (you know, the one after the cops took her home following her stalker holding her at knifepoint).
For a split second, we thought she might pull through.
However, our worst nightmare came true: Rayna's last song came, confirming our greatest fears that she will no longer be a part of "Nashville." Our star has died.
I'm truly in mourning, and I've had "Lies of The Lonely" and "Ball and Chain" on repeat since I received the news.
On her Instagram, Britton wrote,
Finally and most importantly, the fans. You made Rayna. You supported her and loved her and gave her inspiration just as she was able to inspire you. You were the energy source, the power behind her heart and soul and life. Rayna lived for you. And, from the depths of my heart, I thank you, for her and for me.
Although Nashies have been suspecting Britton's departure, it still doesn't take away the fact that her death hurts. I mean, we had an emotional Tuesday night with "This Is Us," and then we lose Rayna. It's a lot to handle in one week.
I'm a hardcore fan (in case you couldn't tell), but Rayna's fictional death also comes with a personal anecdote.
Two years ago, my mother and I booked tickets to see "Nashville" in concert, and I was completely stoked to hear the music, see my favorite stars live (hellooooo Gunnar Scott, you sexy fella) and feel like I was sitting in the Bluebird Cafe with country's biggest stars.
Days before the show, my father had undergone cardiac arrest playing tennis. It was sudden and unexpected, and I knew I would be a mess if he didn't make it.
Fortunately, I received the good news our fictional daughters Maddie and Daphne (Lennon and Maisy Stella) did not: My pop was going to be OK.
I had insisted I skip the show in the wake of his (as he calls it) "episode," to which my father said, "You crazy? That's a hot ticket."
Since there is no arguing with a stubborn Italian man, we went. We saw the stars about 10 feet away from us coming out of the back of Beacon Theatre, my mother lost her cool seeing Deacon (Charles Esten) wave to her. I gushed over Gunnar (Sam Palladio) when he walked out, towering over Scarlett (Clare Bowen).
They were so genuinely sweet and talented and happy to be performing in New York. I loved every part of the show, and, of course, followed "Nashville" ever since the concert.
In a sense, Rayna is like my fictional country music mother, and losing her was something I wasn't prepared for. The stars brought out so many emotions for me, and I feel like I'm losing someone I've grown so close to.
Yes, I know this is a fictional show, but when you follow someone every week, and suddenly she's taken away, you feel the sting.
But we don't know what the future holds for Britton, and I'm sure she and her fabulous acting (and equally fabulous long locks) will soon return to our TVs.
In the meantime, the real-life Rayna is alive and well, and actually super badass. Take a look...
Welcoming refugees.
Marching for women's rights.
Standing up for the arts.
Supporting our guy.
Hang in there, Nashies. We're going to make it.
Citations: @conniebritton (Instagram)