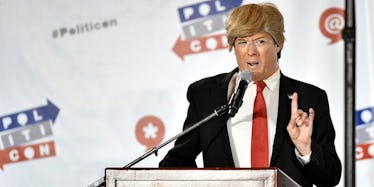 Comedy Central Is Starting A Late-Night Talk Show With Donald Trump... Kind Of
REX/Shutterstock
Donald Trump is back hosting a TV show (kind of), and you know the ratings are going to be yuuuuge. Some of the biggest ratings of all time, and I would know. People tell me all the time how yuge the ratings are going to be. Nobody has better ratings than this show.
A week after Comedy Central started teasing the mysteriously named "President Show," the network has finally confirmed that they will be airing a weekly late-night talk show featuring our President in Chief.
Ok, technically it's just a Donald Trump impersonator, but still, Comedy Central is clearly hellbent on making TV great again.
Comedy Central said in a press release on Monday,
Just like a certain chief executive in Washington, 'The President Show' gleefully tosses out the rulebook of its predecessors.
Last week, the network sort of posted a press release about the show from "The President Show"'s Twitter account.
"The President Show" is set to air on Thursdays at 11:30 pm, pushing "@Midnight" back to its original time slot (midnight) on those nights.
The impersonator they cast to take over Trump duties is Anthony Atamanuik, a New York comedy staple and UCB performer who has been touring as Trump for the past 15 months after a video of him debating a Bernie Sanders impersonator went viral.
Atamanuik said in a statement.
Laughing at the President is a proud American tradition, and we hope not to disappoint anyone in that department. But our political system is too broken for us to be content joking about one man, even though he is a disastrous silly little toddler boy. Mostly, I'd just like to thank Comedy Central for giving us this platform to speak truth to power and if we're lucky, end up in prison!
According to Vulture, "The President Show" will feature field pieces, desk segments, interviews, Mike Pence (played by Peter Grosz) as the show's side kick and will take place in an Oval Office.
MATVA.