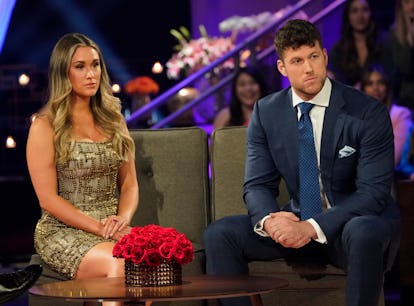 Clayton Echard & Rachel Recchia Reunited On TikTok (Seriously)
Plus, Susie Evans seemingly responded to the videos…
Craig Sjodin/Disney General Entertainment Content/Getty Images
The drama from Clayton Echard's season of The Bachelor just keeps on giving. On Feb. 1, Echard and Rachel Recchia shocked Bachelor Nation by reuniting on TikTok. In the videos, the duo seemed pretty friendly, despite the painful breakup in their past. Confused? Same.
ICYMI, throughout Echard's season, Recchia was a clear frontrunner — right up until he broke up with her and Gabby Windey in one truly terrible joint breakup. Recchia wasn't above holding a grudge, either. At "After The Final Rose" in March 2022, she told host Jesse Palmer, "I don't think [Clayton] deserves to talk to me." Later, she told Echard, "I became collateral damage in your journey for love that was the most completely selfish journey."
That said, no one really expected a friendly reunion. On Feb. 1, Echard and Recchia were in not one, not two, but three TikToks together. In the first video, Echard, Recchia, Michelle Young, Blake Horstmann, and Giannina Gibelli all lip-synced the popular TikTok sound: "A win is a win." They added text to the video, "when you get over your reality tv trauma."
In another video, Young asked Recchia, "Do you feel like you wanna talk less sh*t?" At the same time, Echard walked behind them, looking ready to approach the duo. But when Recchia said, "No," Echard retreated.
OK, one more video, posted by Recchia herself. In this one, Young asked her, "Are you gonna tell me what's going on?" Recchia replied, "I would, but I think explaining it might give us both an aneurysm." The video then panned to show Echard sitting awfully close to Recchia.
People were... confused, to say the least. In the comments section, Bachelor fans questioned why the two were together. "The most wild piece is Clayton and Rachel being in the same room," one commented on the post. Another wrote, "Whaaaat clayton and rachel?!? I'm intrigued."
Though Echard and Recchia haven't clarified anything, a different Bachelor alum seemed to weigh in. On Feb. 1, Susie Evans — aka Echard's ex who he dumped Recchia and Windey for — posted a telling Instagram. "Walking on the side of the street with sun not shade >," she captioned an IG Story, per Us Weekly. Hmm, does it still count as staying away from the ~shade~ if you post about it?
Stay tuned for the next segment of Echard's Exes™.