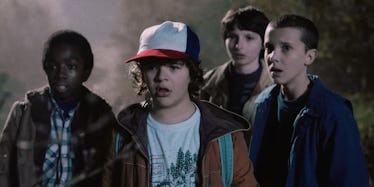 Netflix's New Move May Mean Saying 'Goodbye' To Your Favorite Classic Movies
Netflix
Netflix has a special place in our hearts.
Like a good friend, it's always there when you need it. It's reliable. It never fails to make you feel better after a long, exhausting day. And even when you think you've seen it all, Netflix will surprise you.
Wow, did I just describe the perfect boyfriend or a TV streaming service?
Well, either way, things are about to change -- possibly for the worse, maybe for the better. You be the judge.
Netflix CEO David Wells announced at Goldman Sachs' Communacopia conference Tuesday the streaming service will offer 50 percent original programming in the future. And when I say future, I mean as soon as next year.
That's a lot of original programming.
So yeah, that could mean less classic movies and TV shows, BUT let's not forget Netflix's solid track record when it comes to producing original movies and television.
Wells expressed that Netflix isn't aiming to knock each original out of the park. He said,
We don't necessarily have to have home runs… We can also live with singles, doubles and triples especially commensurate with their cost.
Just remember, Netflix started out as a DVD delivery service and then went to streaming. It only started producing original series in 2013 and original movies in 2015. The first original show it had was "House of Cards." We can bet its original programming will only get better.
So even though this news means Netflix will start offering less licensed TV shows and movies, we'll get to see more new binge-worthy programming from it.
This is no reason to break up with Netflix at all... unless it takes off "Legally Blonde" and "Mean Girls." Then maybe I'd leave.
Citations: Netflix Targeting 50% of Content to Be Original Programming, CFO Says (Variety)